Not So Fast: Rite Aid Misleadingly Labels, Advertises 'Rapid Release' Acetaminophen, Class Action Alleges
Last Updated on December 3, 2018
Rite Aid's rapid release acetaminophen gelcaps are at the center of a proposed class action lawsuit that alleges the nation's third-largest drugstore chain has misled consumers as to the "nature, quality, and effectiveness" of its ostensibly fast-acting painkiller. The case out of California federal court alleges that not only has Rite Aid misled consumers by claiming the product is comparable to the pricier Tylenol Extra Strength Rapid Release Gels, but that the store's drug actually dissolves slower than its non-rapid-release acetaminophen counterparts.
"Rite Aid has pursued and continues to pursue this course of conduct in order to profit off of unassuming, unwitting consumers looking for the fastest pain-relief possible from an over-the-counter acetaminophen product," the suit reads.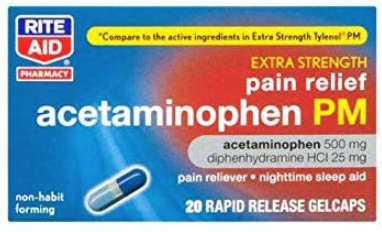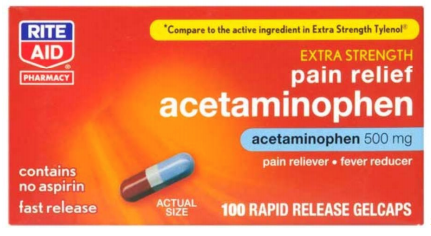 This all started with Johnson & Johnson, according to the lawsuit
Johnson & Johnson brought Tylenol Extra Strength Rapid Release Gels onto the pain reliever scene in 2005. Consumers looking for immediate relief for their hangovers, muscle aches and fevers fell over themselves to pick up the drug, the case says, because J&J claimed the special gelcaps were designed "to allow the release of powerful medicine even faster than before." (More on this below.) This, the lawsuit argues, is patently untrue. In fact, the opposite appears to be the case:
"Johnson & Johnson's marketing campaign has been successful in getting the public to believe that the rapid release gelcaps are faster acting than other Tylenol® products, when in fact they are slower," the complaint reads.
The suit goes on to say that shortly after the release of Tylenol Extra Strength Rapid Release Gels, companies like Rite Aid rushed to get their own generic equivalents onto store shelves, with the added luxury of having to do little legwork thanks to J&J taking care of, you know, the tedious research, development and marketing associated with the release of a new drug.
This is more or less where the lawsuit's claims against Rite Aid stem from.
Follow the leader?
To put it mildly, the complaint spends almost as much time chiding Johnson & Johnson, who is not named as a defendant in the case, for its marketing of Tylenol Extra Strength Rapid Release Gels as it does on Rite Aid. Johnson & Johnson's marketing, the suit says, "has sought and continues to seek to further the falsehood" that rapid-release Tylenol actually works faster than other cheaper acetaminophen products.
Considering it followed Johnson & Johnson's lead and developed its own so-called rapid-release acetaminophen gelcaps, Rite Aid, the plaintiff says, has done the exact same thing—all while charging consumers what the suit calls a premium price.
"Consumers have been willing to and continue to pay this premium because, as a result of false, misleading, unfair, and/or deceptive labeling and other advertising, they believe the Class Rapid Release Gelcaps work faster than other, cheaper acetaminophen products when in fact, they do not," the case states, pointing out that the prices for Rite Aid's generics are lower than those for Tylenol, a fact not lost on consumers.
That brings us to the lasers.
No laser-drilled holes, no dice, suit says
While Tylenol's Extra Strength Rapid Release Gels contain laser-drilled holes that the company claims allow for the medicine contained within to be released at a faster rate, Rite Aid's generic acetaminophen gelcaps do not, the lawsuit explains. As the case tells it, however, that doesn't stop Rite Aid from claiming that its rapid release product is just like J&J's, or from charging consumers top dollar for what's seemingly just another regular ol' pain reliever.
Despite the technology used for the Class Rapid Relief Gelcaps and despite what Rite Aid's labeling and advertising would have consumers believe, the term 'rapid release' does not actually mean that the drug works faster for consumers than non-rapid release products."
Can we wrap this up please?
At the end of the day, the lawsuit alleges consumers are being duped by Rite Aid into buying its so-called rapid release acetaminophen gelcap painkillers for "much too high a price." According to the lawsuit, the drug, despite what Rite Aid claims, is not comparable to its Tylenol-brand counterpart, nor is the product actually fast acting. The case says the drug, in fact, works slower than Rite Aid's non-rapid release painkillers. For its part, Rite Aid, the lawsuit alleges, has long known or at least should have known that its non-rapid release gelcaps work just as effectively as its rapid release acetaminophen yet did not disclose this to consumers.
Which consumers does this lawsuit look to cover?
The lawsuit seeks to cover a class of consumers who purchased Rite Aid's rapid-release acetaminophen gelcaps in California within the fullest time period allowed by law.
The lawsuit can be found below. Over and out.
Last Updated on December 3, 2018 — 11:12 AM