'No Medicinal Benefit': Young Living Hit with Class Action Challenging Essential Oil Health Claims [UPDATE]
March 24, 2022 – Young Living Essential Oils Case Dismissed; Plaintiff Appeals Judgment
The proposed class action detailed on this page has been dismissed without prejudice, according to a judgment entered with the court on January 19, 2022.
U.S. District Judge Brenda K. Sannes ruled on Young Living's motion to toss the case on December 16, 2021, finding in favor of the defendant. In a 30-page memorandum opinion and order, the judge granted Young Living's motion on the grounds that the company's claim that its essential oils were "therapeutic grade" amounted to "puffery," defined by law as an exaggeration or overstatement expressed in broad, vague and commendatory language, and thus non-actionable.
According to court documents, the language "100% Pure, Therapeutic-Grade" appears on the labels of all of Young Living's products, which each have different purported health benefits as advertised on the company's website. The judge wrote that this statement, as presented on product labels "does not appear to have any 'concrete discernable [sic] meaning,'" much less communicate any specific details about the product or otherwise signal to a consumer in any way that the product "would operate in an objective measurable way."
The order states that in the context of the overall advertising for the oils, claims concerning the promotion of feelings of relaxation, maintenance of energy levels or relief of tension are "so vague, non-specific, and subjective that they are non-actionable puffery."
"A reasonable consumer could not rely on the vague advertising language that the oils 'can help promote feelings,' 'may help relieve tension,' or 'promote' assorted feelings," the document reads. "These are not representations that the oils provide specific benefits. In fact, from the cited language a reasonable consumer could expect that the oils may not help promote feelings or may not relieve tension."
On February 17, 2022, the plaintiff filed an appeal with the U.S. District Court of Appeals for the Second Circuit of the final judgment entered by Judge Sannes on January 19. ClassAction.org will update this page with any new developments.
Want to stay in the loop on class actions that matter to you? Sign up for ClassAction.org's free weekly newsletter >here.
Young Living Essential Oils, LC was hit with a proposed class action this week claiming that consumers have been misled by the company's statements regarding the health-related benefits of its popular essential oils.
According to the lawsuit, Young Living's claims that its oils are "therapeutic" and can help relieve anxiety, improve sleep, and provide clarity, among other health-related benefits, are not supported by "any competent and reliable scientific evidence."
In truth, the suit says, the essential oils "provide no health[] or medicinal benefit whatsoever."
The case claims consumers have been duped by the company into paying a hefty price for the essential oils—as much as $36.00 per bottle—when similar products cost less than half that much. As stated in the complaint:
As a result of Defendant's unlawful and deceptive conduct, Plaintiff and Members of the Classes have been, and continue to be, harmed by purchasing a product under false pretenses and paying more for it than they otherwise would have, if they would have purchased it at all."
"Therapeutic" Grade?
The 30-page lawsuit centers on the claim that consumers purchased Young Living's essential oils, or at least paid as much as they did, based on the multi-level marketing company's representations that the products are "therapeutic" and provide a number of health-related benefits.
According to the suit, each bottle of Young Living essential oil prominently states that the product is "therapeutic-grade."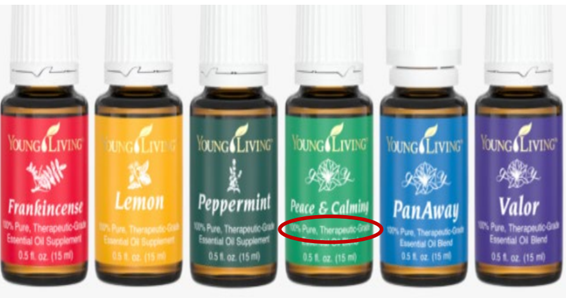 To support its "therapeutic" claim, Young Living allegedly represents that its products offer various physical, mental or medicinal benefits, including claims that specific versions of its oils can:
"help promote feelings of stability and calm;"
"help relieve tension during times of occasional stress;"
"help support restful sleep;"
"support the feeling of normal clear breathing;
"promote a sense of clarity and focus when used aromatically;"
"boost[] your positive outlook on life;"
"reduce[] feelings of occasional stress;" and
"help[] to maintain energy levels when applied topically."
Young Living, the suit says, expects consumers to rely on these representations when making purchasing decisions. The problem, according to the case, is that the essential oils sold by Young Living "actually provide no health-related benefits whatsoever," meaning consumers have paid a premium price for a product that cannot deliver on its promises.
The lawsuit goes on to note that the National Advertising Division (NAD), a regulatory body tasked with independently monitoring and reviewing the accuracy and truth of national advertising claims, recently challenged Young Living's health-related claims about its products—in particular, the representation that they are "therapeutic." During the proceeding, Young Living failed to produce "any competent and reliable scientific evidence" to support its health-related claims, according to the case. As a result of the proceeding, the NAD directed Young Living to permanently discontinue its claim that its essential oils are "therapeutic," as well as several related claims that the oils:
Promote feelings of calm and relaxation;
Help consumers sleep;
Reduce anxiety;
Provide clarity, focus and/or alertness;
Energize; and
Improve consumers' mood and increase their motivation.
In response to an appeal of the NAD's decision by Young Living, the National Advertising Review Board (NARB) in November 2020 affirmed the earlier ruling, concluding that Young Living's "therapeutic" and related health benefit claims were "unsupported."
Despite stating that it would comply with the NARB's decision, Young Living has continued to reference "therapeutic-grade essential oils" on its website, the lawsuit says, and consumers can still purchase bottles of the product with the allegedly deceptive labeling from third-party vendors.
The proposed class action argues that Young Living's marketing and sale of its "therapeutic-grade" essential oils violates the Federal Trade Commission Act and the Food, Drug, and Cosmetic Act in that the products were falsely and misleadingly marketed and promoted as drugs intended to diagnose, cure, mitigate, treat or prevent disease despite not being approved for such an application by the FDA.
A Less-Than-Savory History
The lawsuit points out that this isn't the first time Young Living has been accused of falsely and misleadingly labeling its products. The FDA in September 2014 sent the company a warning letter in which the agency stated that the company's products were improperly being promoted for the treatment of conditions such as viral infections (including Ebola), Parkinson's disease, autism, diabetes, hypertension, cancer, insomnia, heart disease, post-traumatic stress disorder (PTSD), dementia, and multiple sclerosis—conditions that cannot easily be diagnosed and treated by individuals who are not medical practitioners. The FDA directed Young Living to "take prompt action to correct the violations cited" in the letter.
Young Living is also facing another class action lawsuit in which the plaintiff claims the company is "nothing more than an unlawful pyramid scheme." The case alleges that while Young Living told distributors that by selling essential oils they could "take control of [their] future," among other promises of success, the vast majority of members lose money. Filed back in December 2019, the lawsuit is currently pending in Utah federal court.
Both this case and the earlier case against Young Living also reference "controversial moments" in the life of Young Living founder Gary D. Young, including his prosecution for practicing medicine without a license, the running of a "Young Living Research Clinic" in Utah where a physician convicted of manslaughter was employed, and allegations that Young "nearly killed a patient" with vitamin C infusions that led to renal failure. More details regarding the company's apparently shady past can be found over on our blog.
Who Is the Lawsuit Looking to Cover?
Ah, back to the matter at hand.
The lawsuit looks to cover anyone in the U.S. who purchased essential oil products labeled as "therapeutic" from Young Living for personal use anytime during the applicable limitations period and through the date a class is certified.
The case also proposes a class of individuals who did so in California, Florida, Illinois, Massachusetts, Michigan, Minnesota, Missouri, New Hampshire, New Jersey, New York, Rhode Island, Washington, and Wisconsin, as well as a sub-class of those who did so in New York.
How Do I Join the Lawsuit?
As is the case with most class action lawsuits, there's nothing you need to do to join the lawsuit, at least for now. If the case moves forward and settles, notice of the settlement will likely be advertised or sent to those affected, and then you'll have a chance to claim whatever compensation the court deems just. Find out more about the process here.
If you'd like to stay on top of class action news and updates, sign up for ClassAction.org's newsletter here.
Camp Lejeune
Camp Lejeune residents now have the opportunity to claim compensation for harm suffered from contaminated water.
Read more here: Camp Lejeune Lawsuit Claims
Stay Current
Sign Up For
Our Newsletter
New cases and investigations, settlement deadlines, and news straight to your inbox.
A note on class action complaints:
Bear in mind that the information in this blog post summarizes the allegations put forth in the following legal complaint. At the time of this writing, nothing has been proven in court. Anyone can file a lawsuit, with or without the representation of an attorney, for any reason, and ClassAction.org takes no position on the merits of the suit. Class action complaints are a matter of public record, and our objective on this website is merely to share the information in these legal documents in an easily digestible way.
Last Updated on July 21, 2022 — 1:26 PM