Netgear Hit with Another Class Action, This Time Over 'False Promises' About Wi-Fi Range Extender Strength
Last Updated on May 25, 2018
Netgear, Inc. is on the receiving end of yet another proposed class action lawsuit this week, with a new complaint alleging the company's Wi-Fi range extenders "do not, and cannot," extend the range of a consumer's network by 100 percent as advertised. In fact, according to the 12-page lawsuit, the product can typically only extend the range of an existing home Wi-Fi network "by less than 50 percent."
The causes of action levied in the complaint include breach of express warranty, unjust enrichment, and violation of Illinois' Consumer Fraud and Deceptive Business Practices Act.
What are we talking about here?
Have you ever been just out of range of a Wi-Fi network, only to find yourself thinking, "Man, I wish there was some device that could boost the range of my Internet connection a little farther?" Well, that's where Netgear's range extender comes in. The lawsuit, filed in federal court in Illinois, explains the devices are designed to "connect to a WiFi network and boost its signal." The defendant advertises specifically that its range extenders can extend a network connection by "close to 200 percent," according to the lawsuit.
But I gather that's not the case?
Apparently not.
"These representations constitute knowingly false promises by Netgear, made for the purpose of selling more of its Range Extenders," the case reads. "These false promises are made at the expense of consumers, because consumers purchase Range Extenders expecting them to conform to Netgear's representations."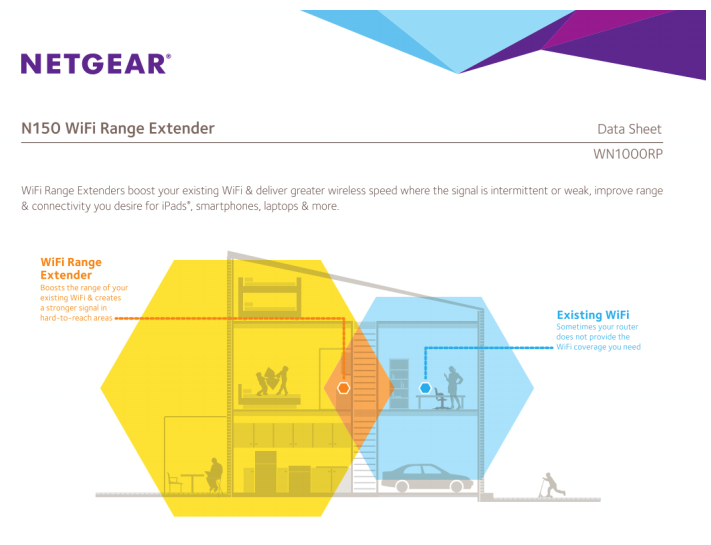 The case outright alleges the representations made by Netgear in the above diagram, which is displayed on every range extender box, are false. While the case concedes that the capabilities of Netgear's range extender may vary depending on a consumer's Internet speed and the architecture of the space in which the device is being used, the plaintiff insists that the range extender, at a basic level, cannot live up to the defendant's representations.
Who's covered by this lawsuit?
This lawsuit aims to cover consumers in Illinois who bought Netgear's range extender.
And, as a reminder: You generally do not have to do anything to join or be a part of a class action lawsuit. It can take a good amount of time for a case to wind its way through the legal system. If you're a consumer in Illinois and have been affected by the allegations described on this page, the best thing you can do is hold tight and check back with ClassAction.org for updates.
And what if I don't live in Illinois?
It's not uncommon for consumer protection lawsuits like this one to be filed by other law firms – or the same law firm – in other states over the same (or similar) allegations. If you're interested in filing a case yourself, you can always contact an attorney in your area.
The complaint can be read below.
Last Updated on May 25, 2018 — 11:05 AM