In the Dark: Allegedly Defective Duracell LED Flashlights Drain Batteries When Turned Off, Class Action Lawsuit Claims [UPDATE]
Last Updated on July 7, 2022
August 25, 2020 – Lawsuit Settled for $2.2 Million
Duracell has agreed to settle the proposed class action lawsuit detailed on this page, with 192,000 eligible Duracell-branded LED flashlight buyers slated to receive between $6 and $8 per package of flashlights purchased.
The plaintiffs submitted an unopposed motion for preliminary settlement approval, class certification, appointment of counsel and approval of class notice to U.S. District Judge James Donato on August 20.
According to the court filing, those covered by the deal will receive direct notice of the settlement as the flashlights were sold through Costco. Given the availability of business records to confirm purchases from Costco, the plaintiffs estimate automatic payments will be made to more than 70 to 95 percent of class members without consumers having to file a claim. Others will be able to file claims through a dedicated settlement website set to go live upon the judge's preliminary approval of the deal.
"Plaintiffs and their counsel believe the recovery by each Class Member makes this Settlement an outstanding result, particularly given the major risks faced on liability and damages," the motion reads.
A proposed class action lawsuit alleges Duracell's 250, 300 and 350 model LED flashlights, sold with full sets of Duracell AAA batteries, are defective in that they rapidly drain their batteries, while turned off, in fewer than 30 days. The alleged defect, the case says, not only deprives consumers of the flashlights' advertised operation times and lifespans, but leaves them "literally in the dark, just when they need their flashlights most."
What flashlights are we talking about? I usually just use the flashlight on my cell phone.
The Duracell LED flashlights at the center of the case are the kind you rummage around for in your junk drawer when the power goes out during a summer thunderstorm, and they're most commonly sold in multi-packs containing three or four flashlights. Each sealed package, the lawsuit says, comes with "bonus" Duracell AAA Coppertop alkaline-manganese dioxide batteries—one set for each flashlight—to allow a consumer to immediately use the product.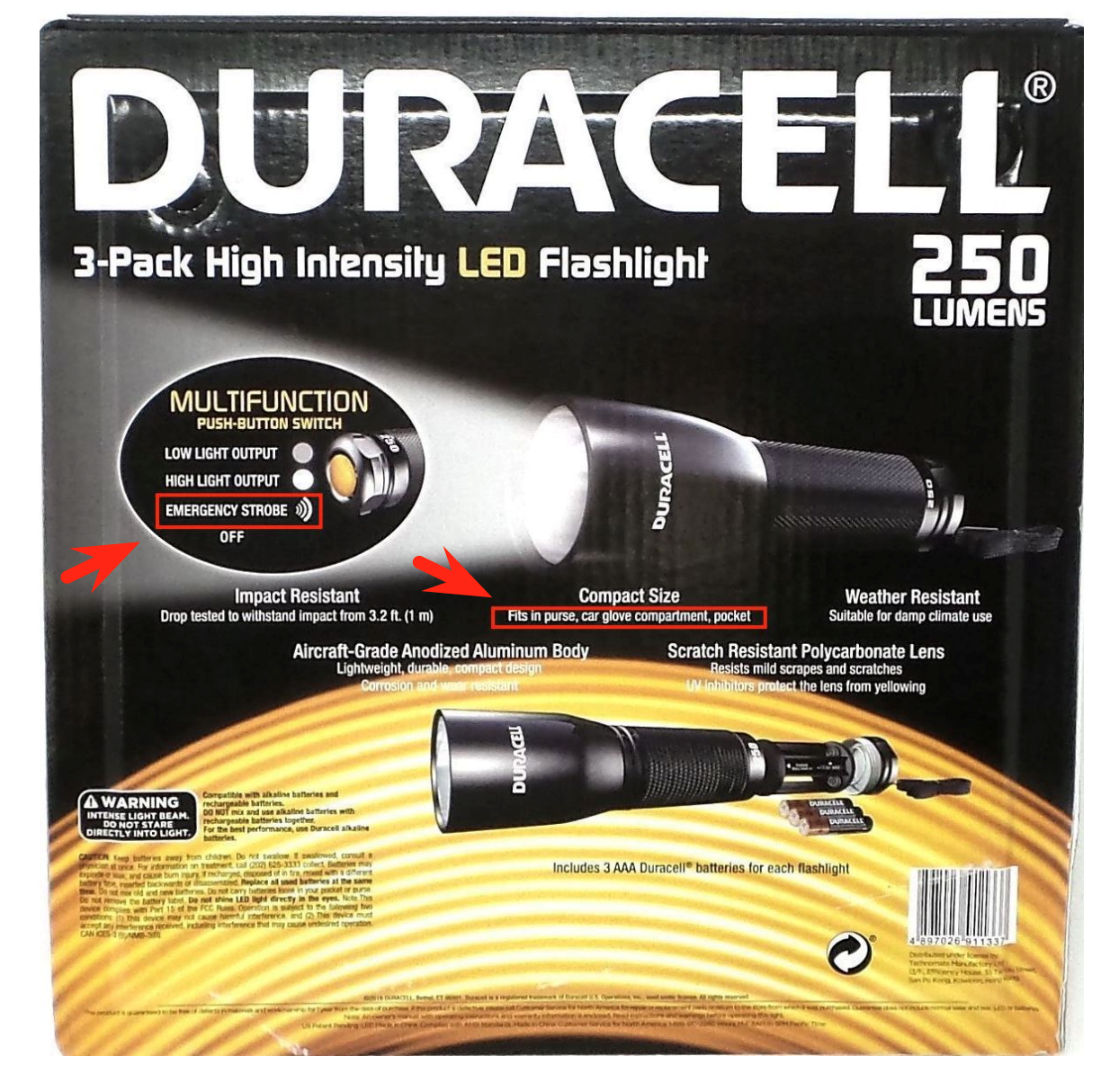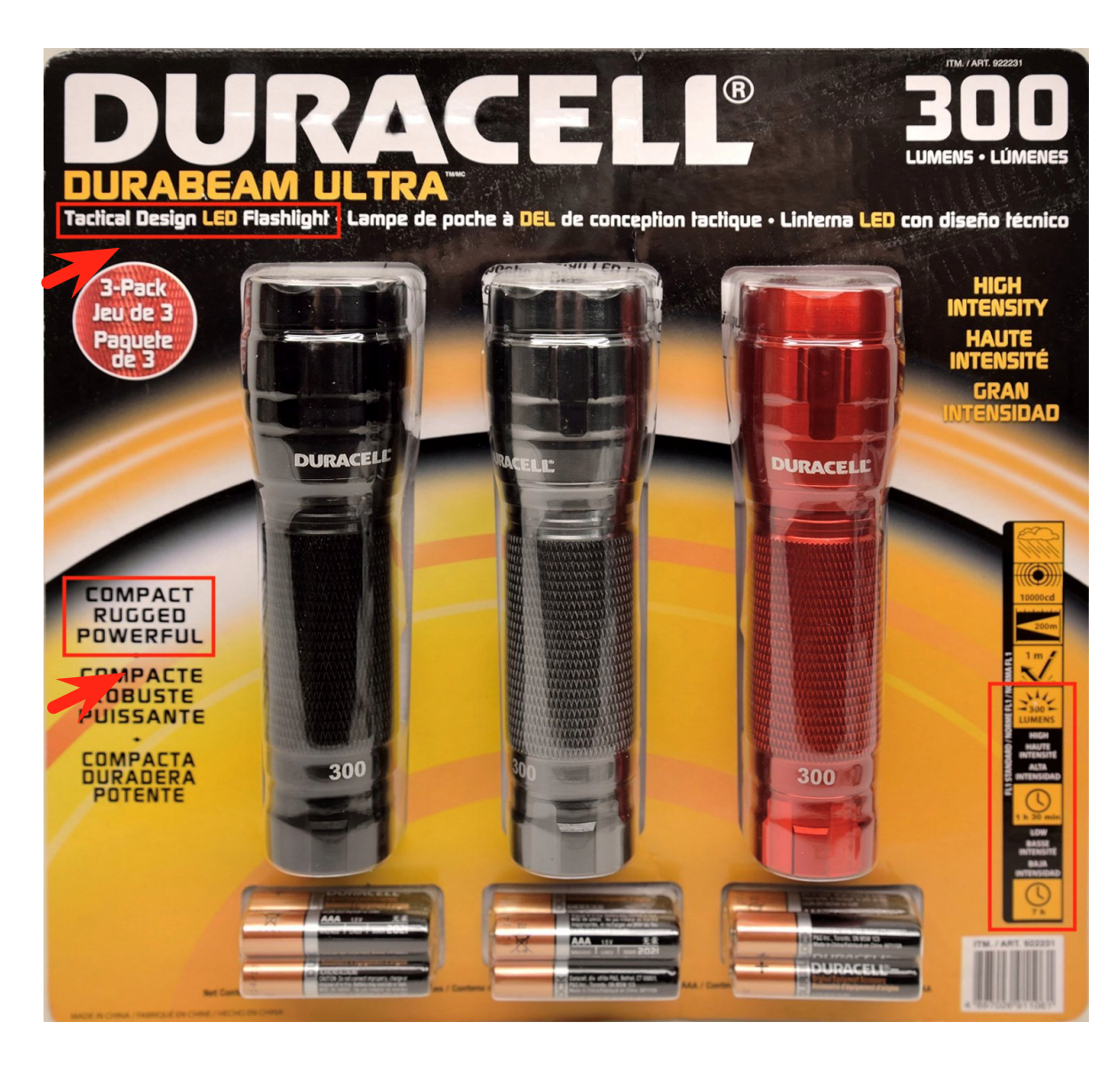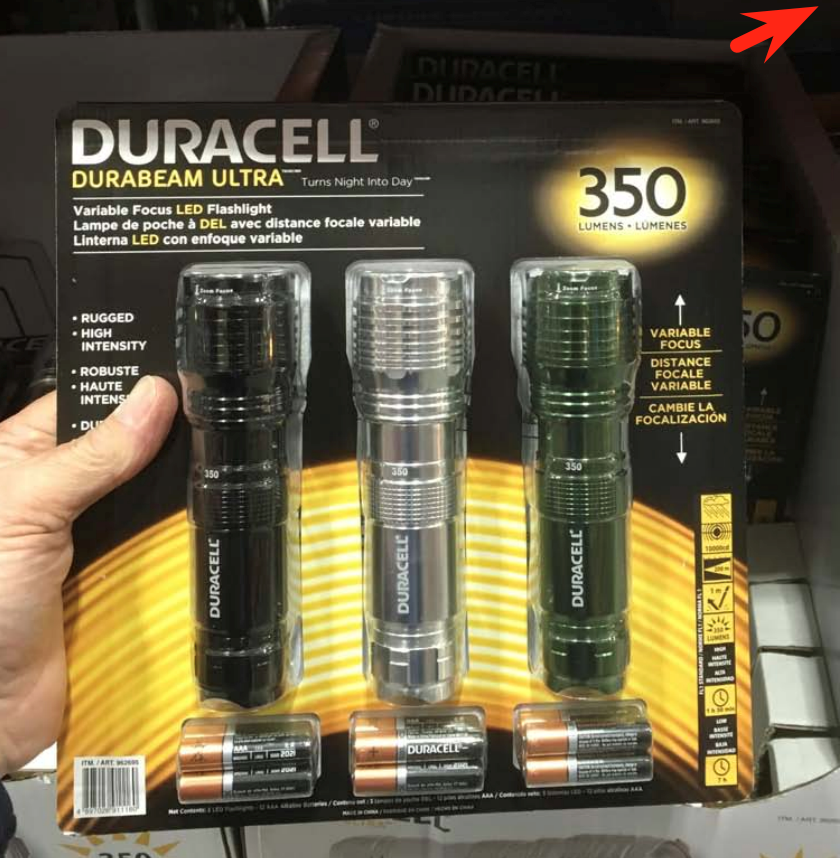 The flashlights' packaging, the suit says, promotes their reliability, boasting that the flashlights are "ideal" for use in emergencies, and claims the product can provide continuous light for up to an hour and a half while on its high-intensity setting and up to seven hours when used on low intensity. Moreover, the case points out that the batteries that come with the flashlights are purported by Duracell to have a guaranteed 10-year storage lifespan.
It may shock you to learn, dear reader, that the lawsuit alleges, over the course of many, many underlined, bolded, and italicized words, that these claims are untrue (emphasis from the complaint):
Specifically, these flashlights are defective in that they continuously and rapidly drain the installed batteries when their LED lights are switched OFF, thus causing the batteries stored inside these flashlights to become fully depleted and dead, in less than 30 days, instead of the 10- year advertised storage lifespan for the Duracell batteries sold with these flashlights or the replacement batteries sold separately."

The alleged defect notwithstanding, the lawsuit goes on to describe a purchasing cycle in which consumers continue to buy additional sets of Duracell batteries for their LED flashlights only to experience the same premature battery drain. To hear the lawsuit tell it, Duracell and its retail partners are the beneficiaries of a "recurring and massively profitable revenue stream" from the sale of replacement batteries to consumers with defective flashlights. More from the complaint:

Year after year, DURACELL, together with its distribution partners, have marketed at least three different models, in succession, of severely defective LED flashlights – notwithstanding the maelstrom of complaints from their customers, and knowing that previous generations of similar non-Duracell branded products did not have this built-in defect which was virtually effortless to correct with minor engineering and manufacturing changes, at negligible cost to DURACELL."
So, Duracell sells flashlights with Duracell batteries then suggests you replace those batteries with Duracell batteries?
Yes, that's the long and short of it, according to the lawsuit.
Has there ever been a recall of the allegedly defective LED flashlights?
No, the lawsuit says, which seemingly further evidences an alleged coordination between Duracell and its co-defendants, which include Duracell's parent company, Berkshire-Hathaway, Inc.; Duracell's former parent outfit, the Proctor & Gamble Company; and Duracell retailer partners Costco, Home Depot and Amazon.com.
Due in part to a deluge of consumer complaints, the lawsuit says, Duracell and its retailer co-defendants have known about the LED flashlight manufacturing defect since at least late 2014. Moreover, the case points out Duracell's 380 and 500 LED flashlight models explicitly state on their packaging that they've eliminated the power drain when in the off position.
Is this dangerous? I feel like this could be dangerous.
Stressing the potential safety hazard created by the allegedly defective products, the 36-page complaint points out that millions of consumers may be unaware that flashlights "strategically placed in their homes or vehicles over the past four years … have actually been long dead and will not help them in a future emergency."
But it's not only dangerous for consumers in desperate need of a light source in an emergency. The lawsuit notes, too, that the environmental impact of having to replace batteries before the end of their expected lifespan is of great concern. As the case tells it, "millions and perhaps billions" of prematurely drained batteries accumulate in landfills and/or recycling centers while Duracell reaps the benefits from the never-ending demand for batteries.
Who does the lawsuit look to represent?
The case seeks to cover a proposed nationwide class of consumers who bought Duracell's 250, 300 or 350 LED flashlight models from Duracell, Costco, Home Depot or Amazon during the to-be-defined claim period. The lawsuit additionally looks to cover a proposed California-only class of consumers who fit the same purchasing criteria.
The full lawsuit can be read below.
Camp Lejeune
Camp Lejeune residents now have the opportunity to claim compensation for harm suffered from contaminated water.
Read more here: Camp Lejeune Lawsuit Claims
Stay Current
Sign Up For
Our Newsletter
New cases and investigations, settlement deadlines, and news straight to your inbox.
A note on class action complaints:
Bear in mind that the information in this blog post summarizes the allegations put forth in the following legal complaint. At the time of this writing, nothing has been proven in court. Anyone can file a lawsuit, with or without the representation of an attorney, for any reason, and ClassAction.org takes no position on the merits of the suit. Class action complaints are a matter of public record, and our objective on this website is merely to share the information in these legal documents in an easily digestible way.
Last Updated on July 7, 2022 — 4:39 PM