'False Promises': Kirkland Signature Nature's Domain 'Grain-Free' Dog Food May Contain Wheat, Class Action Claims
A proposed class action filed this week claims the supposedly "grain-free" Nature's Domain dog and puppy food sold under Costco's Kirkland brand may contain significant amounts of wheat and other fillers that consumers would never expect to be in the products.
Filed against Costco Wholesale Corporation and Schell and Kampeter, Inc., which does business as Diamond Pet Foods Inc., the 27-page case out of Washington argues that consumers paid a premium price for Nature's Domain "Turkey Meal & Sweet Potato Formula for Dogs" and Nature's Domain Puppy "Chicken and Pea Formula" based on the defendants' representations that the products were "grain-free." According to the case, if pet owners had known the truth about the dog and puppy foods' contents, they would have paid less for the products or would not have purchased them at all.
"If these products had disclosed the truth—that they can contain wheat or other ingredients that are different from or beyond those that are listed—then these pet owners would no longer pay such a premium," the complaint states.
Dog Owners Seek Grain-Free Food, Class Action Says
Per the complaint, the reason many consumers search store shelves for grain-free dog and puppy food is that certain ingredients, which are often used as "cheap fillers," may cause allergic reactions or lead to other health problems in their pets.
"For example, dogs can—and often do—have allergic reactions to certain foods, including those that contain wheat," the complaint reads, adding that some breeds are more susceptible to food allergies than others.
The lawsuit adds that although not all dogs are allergic to grains, many consumers choose to pay top dollar for limited ingredient pet food instead of running the risk of vet bills later on.
It's for this reason that the "grain-free" claim on Kirkland Nature's Domain dog and puppy foods is material to consumers, the suit says. Upon reading the products' packaging, buyers believe the foods include only limited ingredients, are "specially formulated" to meet dogs' health needs, live up to the defendants' promises and warranties, and adhere to "quality and manufacturing standards," according to the case.
What the packaging fails to disclose, the suit claims, is that the supposedly "grain-free" products may actually contain wheat and other ingredients that could be detrimental to pets' health—and that consumers paid to avoid.
"False and Misleading Statements"
According to the case, both the front and back of every bag of Kirkland Nature's Domain "Turkey Meal & Sweet Potato Formula for Dogs" and Kirkland Nature's Domain Puppy "Chicken and Pea Formula" state that the food is "grain-free."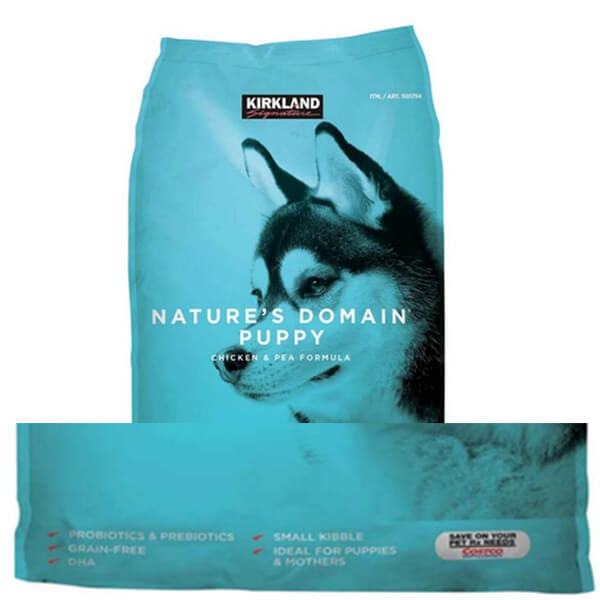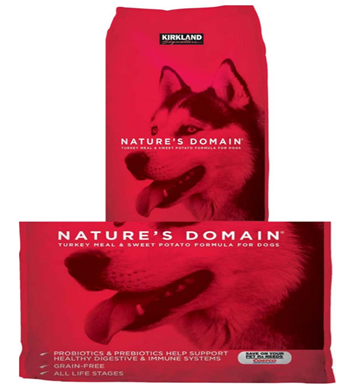 Moreover, the suit states, "wheat" does not appear anywhere on the foods' packaging, including in the products' ingredients lists.
The lawsuit argues, however, that the defendants' representations that Kirkland Nature's Domain products are "grain-free" and safe for dogs that may be sensitive or allergic to grains are false and misleading.
According to the case, an independent analysis of the products' ingredients found "significant amounts" of wheat that "[b]y any scientific standard" would be considered more than just a trace amount.
The suit argues that consumers were misled by the defendants' "grain-free" representations into paying more for a product they believed would benefit their dogs' health, weight and overall well-being over cheaper dog food alternatives known to contain wheat.
While one of the plaintiffs says he stopped purchasing the defendants' products when he found out they were mislabeled, the other says he bought the products until his puppy tragically died in late 2019 after consuming the food for months.
Who Does the Lawsuit Look to Cover?
The case seeks to represent anyone in the U.S. and its territories who, at any time since November 3, 2016, purchased one of the Kirkland products for personal, family or household purposes and not for resale.
The suit also proposes two subclasses of Washington and New York residents.
How Do I Join the Lawsuit?
Generally speaking, there's nothing you need to do to join a class action lawsuit. If the case moves forward and settles, anyone affected should then have an opportunity to file a claim for whatever compensation the court deems just. Find out more about the process here.
In the meantime, you can keep up with class action news and updates by signing up for ClassAction.org's newsletter here.
Last Updated on November 4, 2020 — 3:11 PM