COVID-19: Major League Baseball, Teams, Ticket Sellers Hit with Class Action Over 'Refusal' to Issue Refunds [UPDATE]
Last Updated on April 29, 2020
April 19, 2020 – MLB Gives Go-Ahead for Teams to Issue Refunds
As it's become clear that a standard 162-game season will not be played this year due to the novel coronavirus pandemic, Major League Baseball has given teams the green light to issue refunds for games now considered canceled.
According to an ESPN report, the league is not requiring that teams issue refunds, but rather has allowed each club to create its own reimbursement policy for games not played due to COVID-19. Many teams will likely offer credits for the 2021 season, ESPN's Jesse Rogers wrote.
Should baseball return this summer, it will likely be without fans in the seats, according to ESPN.
Two consumers have filed a proposed class action lawsuit against Major League Baseball, Commissioner Rob Manfred, all 30 teams and a number of big-name ticket sellers over the parties' refusal to issue refunds for regular season games currently held in limbo—and which may not take place at all—due to the COVID-19 pandemic.
According to the 45-page lawsuit, the league, its teams and ticket sellers such as Ticketmaster, Live Nation and StubHub have chosen to not issue refunds "despite the near impossibility to play a standard 162-game season with spectators." As the plaintiffs tell it, the defendants have instead moved to "shift their losses to loyal fans," thereby increasing the economic burden felt by millions of Americans amid a time of unprecedented hardship.
The complaint argues that although many businesses have done the right thing and provided refunds for events that will not take place due to the novel coronavirus, "it remains notable that America's pastime—baseball—is refusing to do right by its fans."
Proposed class members—those who bought tickets from either the teams directly or from one or more of the ticket merchant defendants for regular season MLB games affected by the COVID-19 pandemic—have been stuck with "expensive and unusable tickets for unplayable games" that MLB has pretextually "postponed," the case says.
The lawsuit ventures that it's not likely games will be played as scheduled this year—and any that do take place will almost certainly happen without spectators.
Little direction for ticketholders
With the scheduled start of the regular season approaching, Commissioner Manfred on March 12 canceled the remainder of spring training and pushed back the start of the 2020 campaign in response to the continued escalation of the COVID-19 outbreak. In a statement posted by the league online, the lawsuit says, MLB made no mention of any restitution for millions of consumers who bought tickets to games for the 2020 season. Instead, MLB stated, in part, that the league and the 30 clubs would "announce the effects on the schedule at an appropriate time."
According to the case, the first instance of a team making reference to ticket sales was on March 17, when the American League's Tampa Bay Rays informed fans that although the season had been delayed in line with the Centers for Disease Control's guidelines, "no games have been cancelled." The Rays' note to fans, however, offered little guidance for those in search of refunds, relaying only that ticket exchange options and refund policies would be communicated to affected ticket holders "at a later date," the suit says.
Each team offered similar information on their official pages on MLB's website with regard to ticket exchanges and refunds, the lawsuit continues, with each message informing consumers in some form or fashion that the clubs would continue to work closely with the league in developing contingency plans for the season. The Cleveland Indian's statement made a direct reference to refunding fans—in answer to the question "Opening Day has already been cancelled why won't you give me my money back?"—by similarly relaying that no announcements had been made regarding an adjusted 2020 schedule and that fans would be apprised of any game adjustments once the information became available.
Importantly, a number of the team's messages reiterated to fans that no games had been canceled, the suit stresses.
Nearly a month after Opening Day, still no word
To date, nearly a month after the regular season was slated to begin, MLB has yet to formally cancel any games for the 2020 season, claiming that they have merely been postponed. The lawsuit takes issue with the fact that consumers have not been issued refunds even though it is a near certainty that a proper season cannot and will not be played due to COVID-19. From the complaint:
In concert with MLB and Commissioner Manfred, the Teams and the Ticket Merchants have agreed and complied with MLB's directive, and have not issued any refunds during this crisis despite the fact it is virtually impossible that a season can be played because (i) certain dates for games have already passed; (ii) government and health officials have indicated that games are not going to be played, and if so, likely without spectators; and, (iii) despite the fact that MLB itself has given indications that games will not be rescheduled as usual."

For the dozens of games that have already passed, it will be "nearly impossible to replicate the experience for fans" who held tickets, with the same true for those who have tickets to any games for the remainder of the 2020 season, the suit argues.

For their part, MLB, Commissioner Manfred, the 30 ball clubs and the ticket merchant defendants "continue to retain enormous profits" at the expense of fans, the lawsuit alleges. Citing a USA Today report, the complaint claims that more than $1 billion in consumer capital is tied up in tickets for games that may or may not be played as a result of the pandemic.
MLB hints that games might not be played in stadiums in front of fans
The highest word on whether—and how—MLB games might resume came on April 15 from Dr. Anthony Fauci, President Trump's COVID-19 response advisor, who said that he believed the only way professional sports would resume in the U.S. over the summer was if no fans were in attendance. Dr. Fauci's cautiously restrained optimism coincided with skepticism from MLB Player's Union Executive Director Tony Clark, who told USA Today that the 2020 regular season effectively hinged on "the amount of testing available and a vaccine."
Just after the scheduled start of the regular season, reports emerged that MLB and the Players' Association were floating the possibility that all 30 teams might play in Arizona with no fans in attendance. According to the suit, the exploration of this idea amounts to an indication from MLB itself that games will not be played as scheduled in home stadiums in front of paying fans.
Merchants still encouraging new ticket purchases, lawsuit says
Despite the uncertainty surrounding the rescheduling of 2020 regular season games, the ticket merchant defendants—Ticketmaster, Live Nation, StubHub and Last Minute Transactions—have not only refused to issue refunds but continue to encourage fans to make new ticket purchases for games whose calendar dates have not yet passed, the lawsuit alleges.
The lawsuit includes screenshots of StubHub's website that show the broker, as of April 19, continues to urge ticket purchases to MLB regular reason games: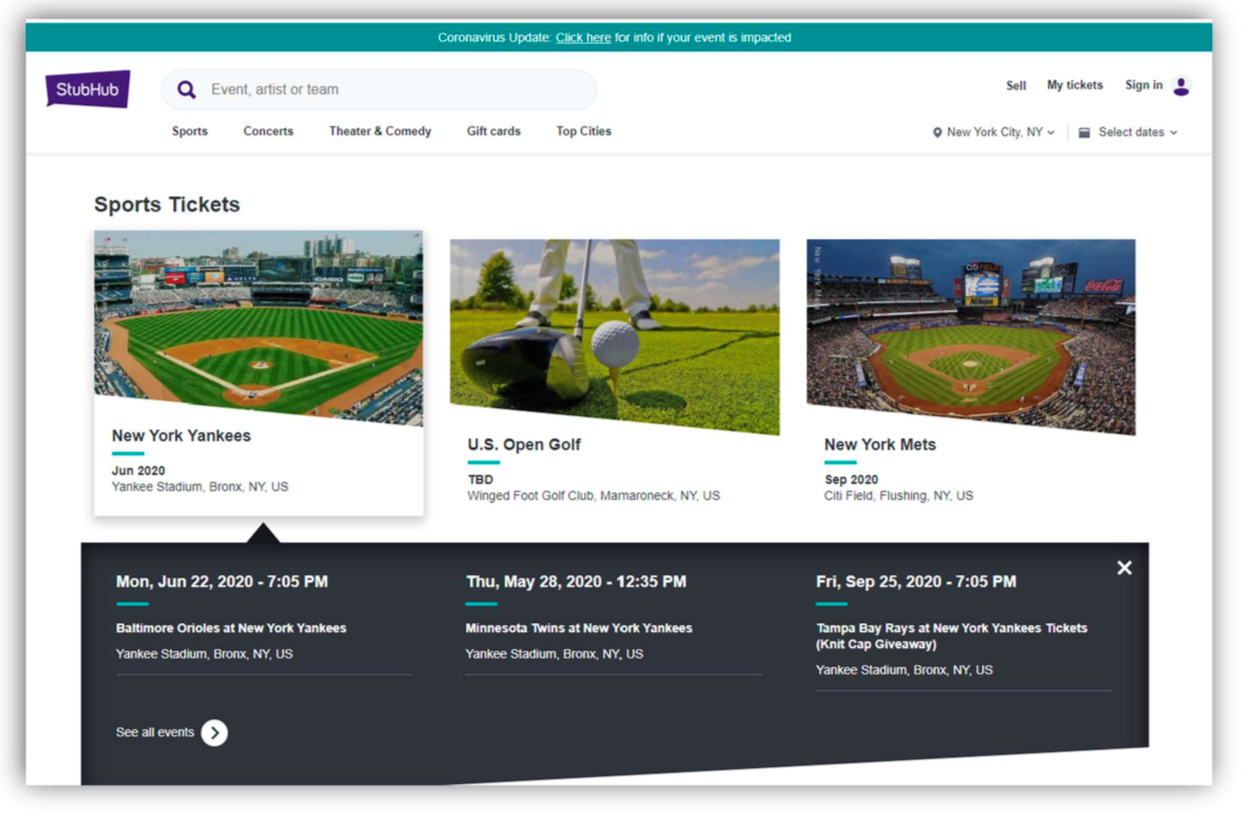 The suit scathes that the conduct of the companies during the COVID-19 pandemic "suggests they have no intention of offering refunds" to those who've bought tickets to MLB's 2020 regular season. StubHub, the complaint points out, went so far as to change its refund policy in mid-March without informing consumers, with the company essentially claiming it could not withstand the hit of issuing full refunds as previously promised. Further, Ticketmaster's website states that the company will not refund MLB game tickets even if a game is canceled, the suit says.
On April 16, U.S. Representatives Katie Porter (D-CA) and Bill Pascrell, Jr. (D-NJ) issued a letter to Live Nation and Ticketmaster in which they admonished the companies' refusal to issue refunds for MLB games. Though the New York Times reported the following day that Live Nation, Ticketmaster's parent company, stated it would offer refunds and coupons for canceled and postponed shows, nothing was said to address refunds for those who bought tickets to 2020 MLB regular season games, the lawsuit says.
In all, the complaint contests that consumers have been harmed by the defendants' concerted "pretext" of postponing games in order to sidestep their obligation to issue ticket refunds:
This agreement, cooperation and coordination by all Defendants to avoid refunding money to Class Members caused, and continues to cause, Plaintiffs and the Class members harm. Each of the Defendants is responsible, as each was aware that other Defendants have not refunded any money to the Plaintiffs and the Class Members for MLB 2020 ticket purchases; and that Defendants agreed with each other (explicitly or tacitly), and intended that the monies paid (including all ancillary costs) by Class members for MLB 2020 tickets not be refunded (in part or in full) in violation of California consumer and other laws."

The plaintiffs allege that the defendants are aware that their representations that the 2020 regular season will be played are false and misleading.

Who's included in this lawsuit?
The case aims to cover those who bought tickets to 2020 Major League Baseball regular season games affected by the COVID-19 pandemic directly from the teams or from one or more of the ticket merchants named as defendants.
The case further looks for the court to rule that the defendants' continued sale of tickets for the 2020 season violates California law.
The lawsuit can be found below.
ClassAction.org's coverage of COVID-19 litigation can be found here and over on our Newswire.
Sign up for ClassAction.org's newsletter here.
Last Updated on April 29, 2020 — 11:04 AM