Class Action Says Pepsi Telling 'Half-Truths' About Naked Co.'s 'Cold Pressed' Juices
Last Updated on August 3, 2017
PepsiCo, Inc. and three subsidiaries have been hit with a proposed class action lawsuit hoping to take the companies to task for allegedly failing to tell the whole truth about how Naked Juice Co.'s "Naked Pressed" line of cold pressed juices are made.
But I thought only coffee could be cold pressed?
Yes, so did I.
OK, so how's it done?
The lawsuit, filed in New York, says it's fairly common for premium juice products to be made by being cold pressed, the process for which reportedly commands a higher price and "acceptance" of the product among consumers. According to the complaint, a juice being cold pressed indicates to consumers that the product is fresh and not processed, that it contains no added sugars or artificial flavoring, and that the juice's composition has not undergone any subsequent processing or treatment. Moreover, cold pressed juices reportedly retain more nutrients than similar products that undergo other methods of production, the case mentions.
The lawsuit explains the process of cold pressing involves shredding fruits and/or vegetables into a pulp and then loading it into a large feeding tube and, after that, a filter bag. After multiple tons of hydraulic pressure are then applied, juice and water from the produce drips into a collection tray before being bottled and labeled.
And that's it?
Here's where we get to the crux of the suit's allegations.
Once the cold pressing process is complete, the case says, the bottled juices are then placed into a cylindrical vessel, where they're subjected to pressure levels of 87,000 pounds per square inch. This high pressurization, the suit continues, results in:
An increase in the temperature of the bottled juice contents;
Structural changes to cell membranes;
Inactivation of enzyme systems that control metabolic reactions in the juices, which extend shelf life;
Denaturing of proteins; and
Reduction in resistant microorganisms that are considered a public health concern.
Once this process is complete, the lawsuit claims the juices' "enzymatic, biological and cellular activity" is generally diminished, as well as the products' nutrient levels.
If you're a regular reader of ClassAction.org, you can see where this is going.
So, you're saying Pepsi is hiding something about its cold pressed Naked juices?
Not quite. But the lawsuit, at its core, claims the defendants' choice of labeling for Naked Juice Co.'s cold pressed line "misrepresents" the products, as the fact that they're cold pressed is emphasized while no mention is made of the high-pressure processing that happens before the juices are ultimately made available to consumers.
The case says that PepsiCo is not required to disclose that Naked Co.'s juices are made through a cold pressing process. However, since the company discloses this voluntarily, the case claims any statements PepsiCo does make must be truthful and not misleading. From the lawsuit:
"These representations are 'half-truths' because they exclusively tout the more desirable, cold pressed aspect of the products and do not disclose, qualify or modify said representations by indicating that after being cold pressed, the products undergo high pressure processing."
Elaborating, the lawsuit argues the high-pressure processing undergone by the juices results in the final product being different than that produced solely through cold pressing.
"A food product's name is (1) intended to refer to the final product and not the product which exists at an intermediate stage of manufacturing and (2) may include descriptive, modifying or qualify terms that are truthful and not misleading," the lawsuit says. "Avoiding deception when labeling and describing a product is especially necessary where packaging does not clearly distinguish one product variation from another."

Have other cold pressed juice makers dealt with this?
The case goes so far as to allege PepsiCo's representations of its cold pressed juices do not line up with those made by other manufacturers for identical or similar products made in the same way, indicating Naked's labeling is false and deceptive.
For instance, the suit notes that both Starbucks Evolution and Bolthouse Farms' cold-pressed juices, pictured below, contain the phrase "high pressure processed" on their labels, whereas Naked's drinks, also pictured below, do not.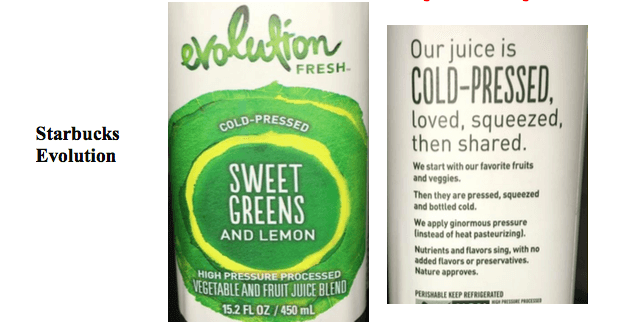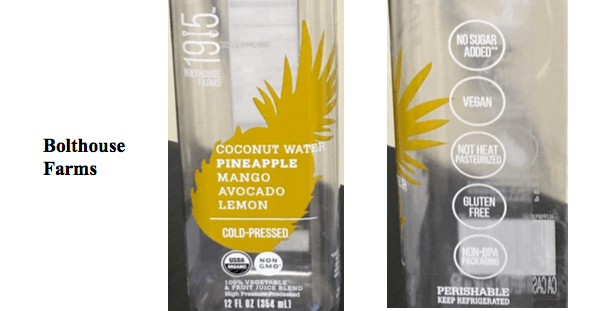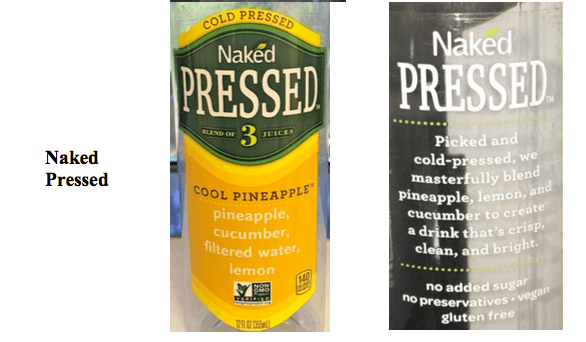 Who's covered by the suit?
The lawsuit covers a proposed class of consumers across all 50 states who purchased any of the Naked Juice Co.'s "Naked Pressed" cold pressed products within the to-be-defined statute of limitations.
How do I join the lawsuit? What do I need to do?
You generally don't have to do anything to be included in a lawsuit like this. You can find out why by reading our how to join a class action page. Sit tight and we'll keep you updated as the case moves through the court system.
If you're really concerned about the issue, you can always talk to a local lawyer—or maybe just press your own fruits and vegetables into juice, if you're into that sort of thing.
The full complaint can be read below.
Last Updated on August 3, 2017 — 2:08 PM