Class Action Claims Ocean Spray Cranberry Juices Contain Artificial Flavors Despite Packaging Claims
A proposed class action lawsuit was filed this week against Ocean Spray Cranberries, Inc. over the juice maker's allegedly false labeling of its beverages.
Despite the labels' claims that the juices contain "No High Fructose Corn Syrup, Artificial Colors or Flavors," the lawsuit insists that the products actually do contain artificial flavoring.
Cran-Chemicals
The lawsuit argues that Ocean Spray, famous for its cranberry-blended juice products, adds artificially derived chemical flavorings to its drinks while representing that they contain natural ingredients.
The offending ingredients, according to the case, are dl-malic acid and fumaric acid – substances that the suit notes do occur naturally in plants, fruits, and vegetables. In the defendant's case, however, the acids are supposedly chemically sourced.
Both ingredients, the lawsuit explains, are "chemically manufactured from petroleum feed stocks" and are added to Ocean Spray juices in order to "reinforce[] the characterizing flavors similar to the natural fruit flavor Defendant claims is contained in the Products."
The Alleged Motive
According to the lawsuit, Ocean Spray attempts to capitalize on consumers' desire to purchase natural products that they believe are healthier than products made with artificial ingredients. This mindset, the case explains, allows the company to charge a premium price for its juices – so long as they're branded as containing no synthetic ingredients. The two named plaintiffs in the lawsuit say they relied on the defendant's packaging and representations when deciding whether to purchase Ocean Spray juices and expected that the drinks would not contain artificial flavorings – an expectation the case says is reasonable due to the language and artwork on the front of the packaging.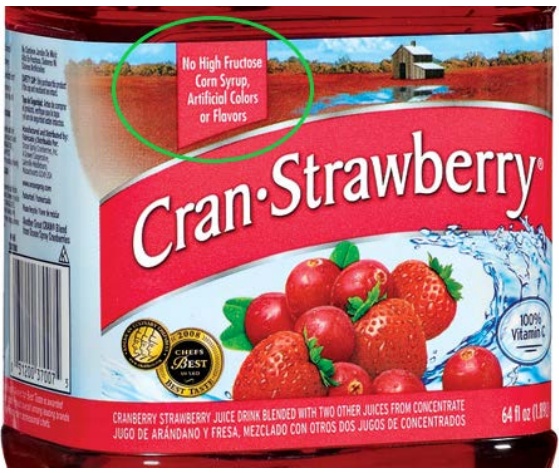 From the complaint:
Even sophisticated consumers should be able to trust the labeling on products. Manufacturers are required to properly label and inform consumers of the true nature of the ingredients for consumers to make an informed decision. Discovering that ingredients are actually artificial or synthetic requires a scientific investigation and knowledge of chemistry beyond that of the average consumer."
The plaintiffs conclude that they would never have purchased the products—much less paid a premium price for them—if they had known the juices contained artificial chemicals.

The Allegedly Affected Products
The lawsuit claims the following Ocean Spray juice products contain artificial flavorings:
Ocean Spray 100% Apple Juice
Ocean Spray Cran Cherry Flavor 100% Juice
Ocean Spray Cranberry Juice Cocktail
Ocean Spray Cran Pineapple
Ocean Spray Cran Pomegranate
Ocean Spray Diet Cran Pomegranate
Ocean Spray Cran Grape
Ocean Spray Cherry
Ocean Spray Diet Cran Cherry
Ocean Spray Wave Berry Medley
Ocean Spray Cran Apple
Ocean Spray Wave Apple with White Cranberries
The case seeks to cover a proposed class of consumers in the United States, excluding people in California, who purchased any of the above products during the class period, and two proposed subclasses of consumers in New York and Massachusetts.
Last Updated on September 25, 2018 — 2:09 PM