Lawsuit Filed Over Spam Text Messages Advertising ADT's Services
December 17, 2019 Last Updated on August 5, 2020
Important Information
Attorneys working with ClassAction.org are no longer investigating this matter. The information here is for reference only. A list of open investigations and lawsuits can be viewed here.
August 5, 2020 – Investigation Closed, Case Ongoing

Thank you to everyone who helped contribute to this investigation! At this point, attorneys working with ClassAction.org no longer need to hear from people who received unsolicited text messages advertising ADT's services. The case referenced on this page continues to move forward and any significant updates will be posted to this page should they become available. Keep in mind that it can take years for class action lawsuits to resolve and, in general, you don't need to do anything to join a case.

Sign up for our newsletter for the latest or view our open list of investigations here.
At A
Glance
This Alert Affects:

Anyone who received a spam text message advertising ADT's home security services.

What's Going On?

A class action lawsuit has been filed alleging that unsolicited text messages promoting ADT are being sent to realtors and consumers in violation of federal law. More people who received these text messages are needed to come forward to help strengthen the litigation.

How Can a Class Action Help?

A successful class action lawsuit could provide $500 per unwanted text message. Each text could be worth $1,500 if the messages were sent knowingly without consent of the recipients.
A class action lawsuit has been filed alleging that two companies have been illegally sending out text messages advertising ADT's home security services.
The suit claims these messages are being sent without the consent of the recipients and therefore could be worth up to $1,500 each if the lawsuit is successful.
What Does the Lawsuit Say Exactly?
The class action was filed against two companies – Safe Streets USA LLC and Always Protected Security LLC – alleging that they broke a federal law known as the Telephone Consumer Protection Act (TCPA).
According to the suit, Safe Streets and Always Protected Security, which are authorized to sell and market ADT's products and services, are said to have sent the automated text messages to advertise their business and increase sales – but never received consent to do so.
The lawsuit claims these messages were sent first to realtors asking for the contact information of clients who recently closed on new homes and therefore might be interested in home security services. An example of these text messages can be seen below: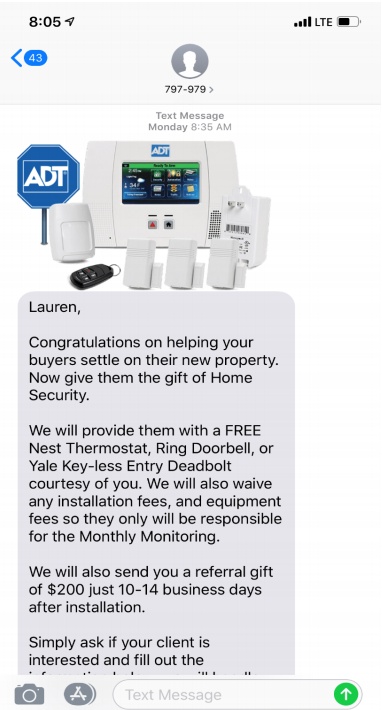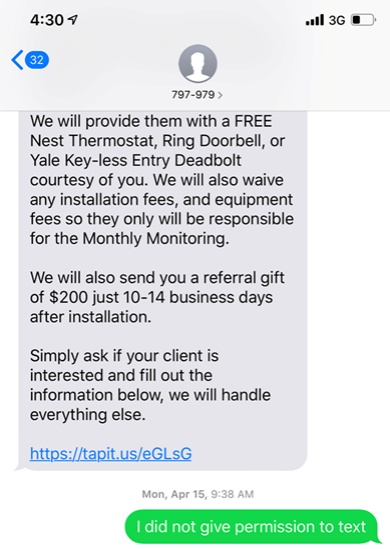 It's been alleged that Safe Streets and Always Protected Security were trying to gather new leads in the form of recent homebuyers so they could, in turn, send them unsolicited text messages advertising their services.
A similar lawsuit, which also named ADT as a defendant, said the plaintiff received unwanted text messages saying that a representative from ADT was "in the area" or going "door to door" and could offer certain promotions, such as gift cards and free equipment.
What Could I Get from a Class Action?
A successful class action lawsuit could allow consumers to recover $500 per text message. If it is found that the companies knowingly violated the TCPA, each text message could be worth $1,500.

Before commenting, please review our comment policy.