USHealth Advisors
Telemarketing Lawsuit
Last Updated on January 6, 2021
Investigation Complete
Attorneys working with ClassAction.org have finished their investigation into this matter.
Check back for any potential updates and take a look at our open investigations here. The information on this page is for reference only.
January 6, 2021 – Case Dismissed

After months of back and forth between the plaintiffs and defendants, the lawsuit detailed on this page has been dismissed at the request of both sides. No further details were provided with the dismissal notice.

March 16, 2020 – Case in Mediation

According to court documents, the case discussed on this page, Hirsch et al. v. US Health Advisors, LLC, has entered mediation. The parties have been ordered to begin "a preliminary phase of mediation" with a telephone and/or video conference on March 17.

Previous mediation that concluded in June 2019 reportedly did not result in any settlement. Stay tuned for updates and sign up for our newsletter for the latest.

October 23, 2019 – Investigation Closed, Case Ongoing

Thanks to everyone who helped with this investigation. The case against USHealth is ongoing and any substantial updates will be posted to this page. You can view our active list of investigations here or learn why you don't need to join a class action to be included in any potential settlement. You can also sign up for our newsletter for the latest updates. Please keep in mind that the information on this page is for reference only and was posted when the investigation began.
At A
Glance
This Alert Affects:

Anyone who received a telemarketing call or text message from USHealth Advisors and never provided consent to be contacted.

What's Going On?

A class action lawsuit alleges that people who received these unsolicited calls or texts could be owed up to $1,500 for each one, but attorneys still need to hear from more people who were contacted.

How Could a Class Action Help?

A class action could help consumers receive between $500 and $1,500 per call or text message and require USHealth to cease any illegal telemarketing activities.
A class action lawsuit claims USHealth Advisors, LLC and USHealth Group, Inc. have engaged in an illegal telemarketing campaign in order to sell insurance.
What is the lawsuit alleging?
The lawsuit alleges that USHealth violated a law known as the Telephone Consumer Protection Act (TCPA), which prohibits unsolicited telemarketing activity when companies are using automated dialing technology.
According to the case, the defendants overstepped this law by placing telemarketing calls and text messages to potential customers' phones without first securing their consent to be contacted, and even after being asked to stop.
Some consumers allegedly had their numbers listed on the National Do-Not-Call Registry when they were called or texted.
What do the calls and texts typically say?
According to the complaint, USHealth Advisors' agents call consumers to offer them potential savings on health insurance. They may ask if another agent can call back with more details on an insurance offer.
The plaintiff in the case says the caller directed him to the defendants' website, www.ushealthfamily.com. The plaintiff also says he received several texts from USHealth Advisors in which agents followed up on the calls and asked if he was still interested in insurance coverage. Here is an example of one of the texts: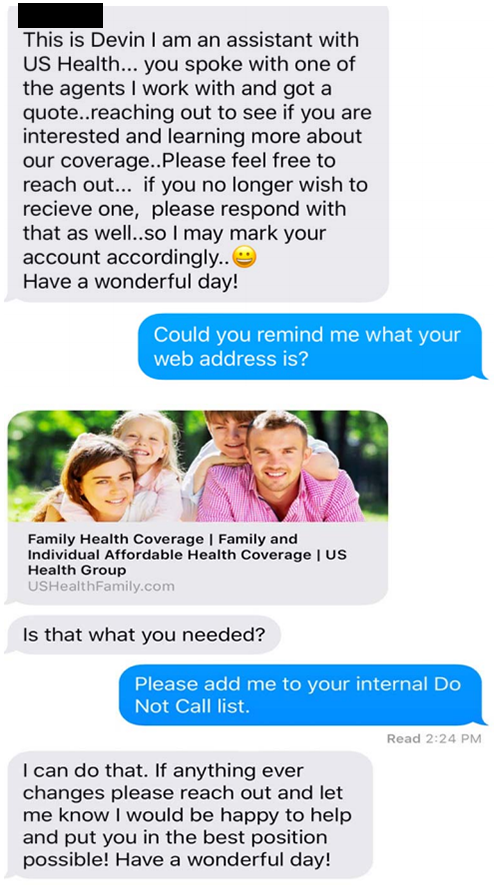 Despite informing the plaintiff several times that his number would be listed on USHealth's internal Do-Not-Call list, the defendants allegedly kept calling the plaintiff and sending him follow-up marketing texts.
Which numbers are the calls and texts coming from?
According to the suit, the defendants called the plaintiff from the following numbers, though there may be others used by USHealth agents:
443-328-4533

813-300-2446

410-635-1449

202-759-3068

240-233-4757

817-406-9546

410-221-3099

817-406-9542
The plaintiff also says he received text messages from two additional numbers:
937-418-7341

727-270-0538
What is the lawsuit seeking?
The class action lawsuit, if successful, could force USHealth Advisors to pay consumers between $500 and $1,500 per call or text, as specified under the TCPA. It could also force the defendants to stop placing illegal telemarketing calls and texts.
Before commenting, please review our comment policy.