Lawsuit Investigation:
Allura Fiber Cement Decking Recall
Last Updated on August 11, 2020
Investigation Complete
Attorneys working with ClassAction.org have finished their investigation into this matter.
Check back for any potential updates and take a look at our open investigations here. The information on this page is for reference only.
August 11, 2020 – Investigation Closed

Thank you to everyone who helped contribute to this investigation. At this point, attorneys working with ClassAction.org are no longer reviewing claims in regard to this decking product. To see our open list of investigations, please visit this page. The information below was posted when the investigation began and remains for reference only.
At A
Glance
This Alert Affects:

Anyone who purchased Allura fiber cement decking or fascia.

What's Going On?

Plycem USA LLC recalled its Allura fiber cement decking and fascia products in July 2017 over problems with delamination and cracking. Attorneys are now investigating whether those who experienced these problems with the decking can file a class action.

I Bought This Decking. How Can a Lawsuit Help Me?

A class action lawsuit could help you recover costs you paid to repair or replace the decking or even future expenses you might pay if your decking was replaced with the same allegedly defective material.
Attorneys believe people who purchased recalled Allura fiber cement decking and fascia may be able to help file a class action lawsuit against the decking's manufacturer.
Customers reported problems with their Allura decking boards, including cracks and delamination, which led to Plycem recalling the materials. Now, attorneys are looking into whether the company provided proper relief to customers, and if not, whether a class action could be filed.
What Problems Have Been Reported with Allura Fiber Cement Decking?
Several Plycem customers have reported seeing cracks and delamination in their Allura decking boards. These problems could potentially be hazardous and cause the deck to give out underneath a person's body weight. The Consumer Product Safety Commission (CPSC) received at least one report of physical injury caused by a person's leg falling through the cracked decking, leading the agency to recall the products in July 2017 with Plycem's cooperation.
Which Decking and Fascia Products Were Involved in the Recall?
According to the Allura website, "All All Allura™ Decking products, including Decking Fascia, are subject to this voluntary recall."
The fiber cement decking apparently came in two styles, one with a direct screw application and one with a hidden fastener application. The cement boards were 12 feet long, six inches wide, and one inch thick.
The fiber cement fascia was sold for vertical application in 12-foot lengths that were either eight or 12 inches wide and 7/16 inches thick.
Allura decking material has a "neutral sandy color" and a wood grain texture like natural wood. Here's a sample picture from the website: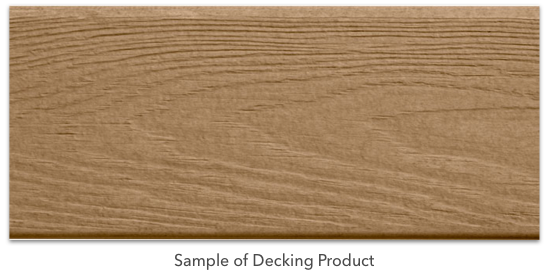 There aren't any labels or other identifying marks on the material, so Plycem advised customers to assume their decks were affected if they bought Allura decking.
I Bought This Decking. How Could a Lawsuit Help Me?
Attorneys are investigating whether a class action can be filed in light of suspicions that Allura customers may not have received as much relief as they should have for purchasing the allegedly defective decking material.
If you bought Plycem's Allura fiber cement decking, you could be paid back for damages you suffered, including, for example:
if your damaged deck wasn't replaced free of cost;

if you haven't built your deck and didn't get a refund for the fiber cement boards you purchased;

if Plycem took too long to inspect or replace your deck; or

if your deck was replaced with the same defective materials.
Before commenting, please review our comment policy.