Sonos Docked with Class Action After Forced Phase-Out of CR100 Speaker Controller
A consumer alleges Sonos purposefully "bricked" via firmware update its CR100 speaker controller, which effectively forced consumers to adapt to using mobile apps to control their smartspeakers.
A proposed class action lawsuit has been filed over smart speaker maker Sonos, Inc.'s decision to forcibly put out to pasture its CR100 hardware controller following a July 2018 firmware update.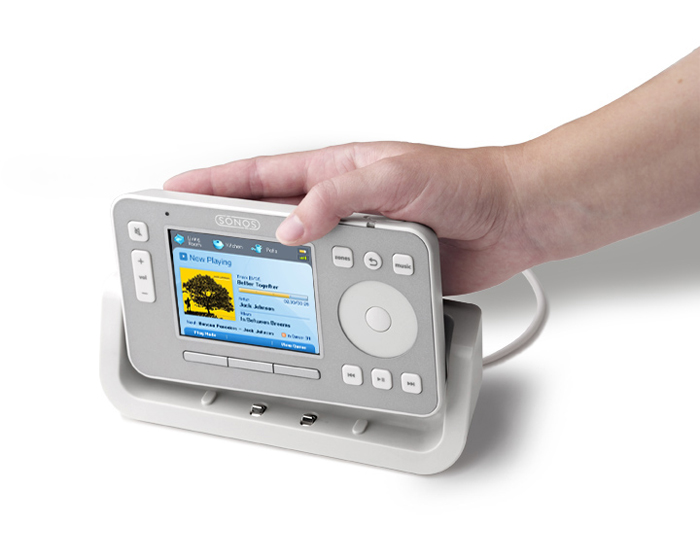 First launched in 2005 in the days of yore before the proliferation of smartphone apps, the CR100 controller was a piece of hardware that allowed users to control their multi-room Sonos speaker systems, the lawsuit explains. Sonos reportedly stopped selling the device in 2009 in part because of the introduction of the company's free smartphone app that performed the same functions as the nearly $350 handheld device. As one publication put it, Sonos CR100 controller owners were left to choose "between keeping the dedicated controllers that Sonos no longer sells—but that are still working more than a decade on—and continuing to get updates for their Sonos players."
The plaintiff argues that Sonos's execution of the software update that effectively "bricked" users' CR100 controllers was rolled out "as a means of gaining an advantage over its competition" by forcing consumers to purchase replacement devices. Sonos, the plaintiff says, was aware of consumers' expectation that their CR100 controllers would operate using current or updated software regardless of the age of the device, and the controllers apparently continued to do so right until the software update was rolled out. According to the lawsuit, Sonos "did not announce that its software update would render" the devices inoperable, nor did consumers anticipate being unable to use their speaker controllers.
"With its update," the lawsuit states, "Sonos acted by force to limit consumer choice instead of competing lawfully, based upon the quality and servicing of its devices."
The plaintiff says that after both of his CR100 controllers failed, the devices displayed a message directing him to www.sonos.com/cr100, which states, in part:
"If you've updated your Sonos software to version 8.5 (released in April 2018) or beyond, your CR100 will no longer connect to your Sonos system.
We know the CR100 has been part of your Sonos experience since it was introduced 13 years ago. Even as we shifted to the Sonos app in 2009 and as the CR100's functionality began to degrade over time, the CR100 continued to be used in many homes as a dedicated controller.
But, the controller has reached the end of its lifespan. For this reason, future Sonos software upgrades will no longer recognize your CR100 when it tries to connect to your system.
If you have not yet updated and choose to take steps to ignore future software upgrades, you cannot add speakers, receive new features or get security patches for your system in the future."
Had he known Sonos would eventually cut short the lifespan of the CR100 controller, the plaintiff would have never bought (or would have paid significantly less for) the device, the lawsuit says.
"Sonos purposely caused the Class Devices to fail," the complaint asserts.
Filed in Los Angeles County Superior Court on June 21, the lawsuit has been removed to California's Central District.
Hair Relaxer Lawsuits
Women who developed cancer, endometriosis or reproductive problems after using hair relaxers such as Dark & Lovely and Motions may now have an opportunity to take legal action.
Read more here: Hair Relaxer Cancer Lawsuits
Stay Current
Sign Up For
Our Newsletter
New cases and investigations, settlement deadlines, and news straight to your inbox.
Last Updated on July 23, 2019 — 8:26 AM