Lawsuit Alleges Tootsie Roll Industries Slack-Fills Junior Mints Boxes [UPDATE]
Last Updated on October 22, 2021
Daniel v. Tootsie Roll Industries, LLC
Filed: October 3, 2017 ◆§ 1:17-cv-07541
The company that makes Junior Mints is facing a suit claiming boxes of the candy are filled with too much air and not enough product.
October 22, 2021 – Lawsuit Dismissed
The claims detailed on this page were dismissed after a federal judge found that a reasonable consumer would not be misled by the amount of slack-fill in boxes of Junior Mints.
In an August 2018 order, U.S. District Judge Naomi Reice Buchwald noted that the plaintiffs had failed to plausibly allege that the slack-fill in Junior Mints boxes is nonfunctional. The judge pointed out that while the plaintiffs compared the product to boxes of Milk Duds, the FDA has recognized that there is "a high degree of variability" in the level of functional slack-fill among similar products.
Moreover, Judge Buchwald found that the amount of slack-fill in Junior Mints boxes would not mislead a reasonable consumer because the boxes are clearly marked with "more than adequate information" about their contents, including the weight of the candy, amount of servings and serving size. According to the judge, reasonable consumers can "easily calculate" the number of Junior Mint candies in each box "simply by multiplying the serving size by the number of servings in each box."
While the plaintiffs argued that only an "unusually diligent consumer" could calculate the candy count, the judge disagreed, noting that the court "declines to enshrine into the law an embarrassing level of mathematical illiteracy."
"The law simply does not provide the level of coddling plaintiffs seek," Judge Buchwald wrote.
A proposed class action filed in New York alleges the maker of Junior Mints, Tootsie Roll Industries, LLC, unlawfully "slack fills" packages of the chocolate-covered mint candy with excessive amounts of non-functional empty space. The lawsuit, which cites possible violations of the federal Food Drug & Cosmetic Act, claims the packaging Tootsie Roll Industries uses for Junior Mints is misleading to consumers, who the case argues have been "denied the benefit of their bargain" because, although they pay for full boxes of candy, actually receive far less. According to some candy math included in the complaint, Junior Mints boxes, when reasonably compared to other candies like Good & Plenty and Milk Duds that contain little slack fill space, are "43 percent" non-functional air.
"Consumers reasonably expect at least 77 percent of the box to contain candy as in Milk Duds, but only 57 percent of the box contains candy," the lawsuit alleges. "Therefore, consumers receive 74 percent of the candy they reasonably expect to receive."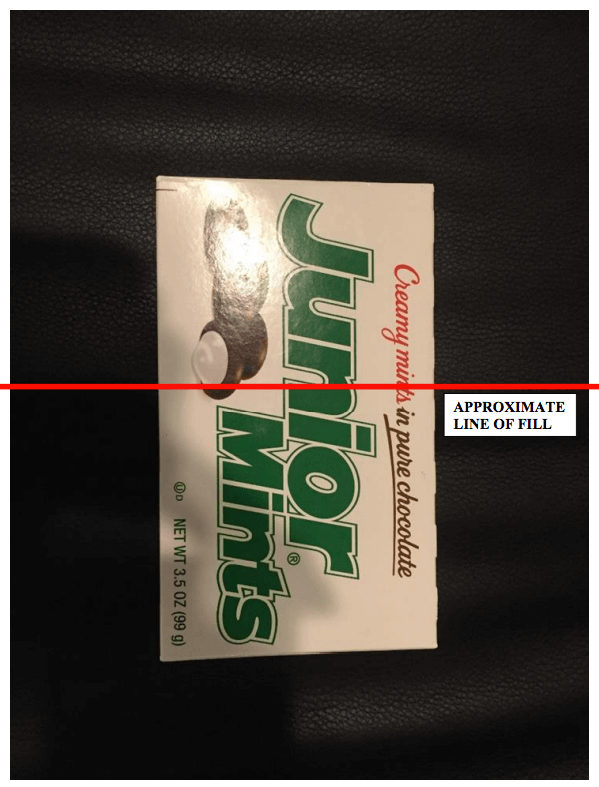 While the lawsuit, from which the above image was taken, concedes that some of Tootsie Roll Industries' slack fill may be functionally justified, Junior Mints are packed with a total amount of slack fill that exceeds what is necessary.
Last Updated on October 22, 2021 — 4:39 PM