Defective Rims on Chevy Corvette Z06, Grand Sport Vehicles Prone to Cracking, Class Action Lawsuit Says
Last Updated on July 23, 2019
The Chevy Corvette Z06 and Grand Sport are at the center of a lawsuit that claims the vehicles come equipped with defective rims prone to cracking and warping.
Consumers who purchased or leased a Chevrolet Corvette Z06 or Corvette Grand Sport (GS) may be covered by a proposed class action filed over an alleged defect with the vehicles' rims.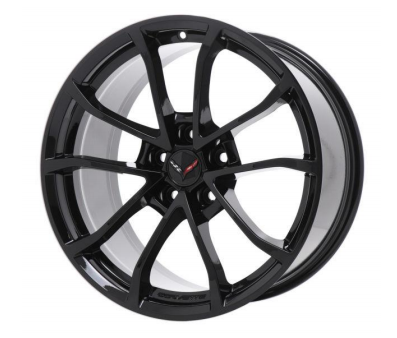 Filed in Massachusetts district court, the 41-page lawsuit against General Motors, LLC alleges the cast aluminum alloy rims on 2015-present Corvette Z06 and 2017-present Corvette Grand Sport models can "warp, bend and crack" at very low mileage, which, among other damage, can puncture tires and lead to air leaks or blowouts. Though General Motors sells affected Corvettes with a three-year, 36,000-mile bumper-to-bumper warranty, vehicles brought to authorized dealers for rim defect-related repairs are "systematically" denied coverage, the complaint claims, resulting in proposed class members paying thousands out-of-pocket to repair or replace their Corvette's cracked or warped rims "with equally defective wheels."
Calling the apparent defect "widespread," the lawsuit cites a Car & Driver review of the 2017 Chevy Corvette GS that goes long on the wheel troubles—and repair costs—the publication experienced while testing the vehicle. From Car & Driver:
"Shortly after its first trip to the test track, however, the Grand Sport showed signs of an ailment that would dog us throughout our time with the car. At just under 6500 miles we discovered that three of its wheels were bent. Two were repaired, but one was cracked and had to be replaced. In all, that was an $1119 trip to the Corvette cobbler, none of which was covered by warranty."
According to the lawsuit, General Motors became aware of the apparent rim defect through pre-production testing and design failure mode analysis, as well as from customer service calls and consumer complaints made to dealers and the National Highway Traffic Safety Administration (NHTSA). Despite possessing internal data on the alleged defect, GM, the lawsuit alleges, "actively concealed" the rim defect from proposed class members, and instead blamed wheel cracking and warping woes on "potholes or other driver error."
General Motors' alleged knowledge of the rim defect notwithstanding, the complaint stresses the problem poses a significant safety concern in that cracked or warped rims can cause a tire to fail or even explode during normal vehicle operation.
The complaint can be read below.
Last Updated on July 23, 2019 — 4:07 PM