'Defect' Can Cause 2013-2018 Nissan Altima Headlights to Get Dimmer Over Time, Class Action Says [UPDATE]
Last Updated on August 9, 2021
The halogen headlamps found in 2013-2018 model year Nissan Altimas suffer from a defect, a class action alleges.
August 9, 2021 – File a Claim: Altima Headlight Settlement Website Is Live
A settlement for the proposed class action detailed on this page has received a judge's preliminary approval, and the official settlement website is now live at the following address:
http://www.altimaheadlightsettlement.com/
United States District Judge William L. Campbell, Jr. signed off on the settlement on July 26, 2021, finding that the deal is "fair, reasonable, and adequate" for Altima drivers. The settlement covers all 2013-2018 model year Nissan Altimas made with halogen headlamps and excludes those made with Xenon or LED headlamps. More information on the specific models covered and not covered under the deal can be found here.
Relief available for eligible Altima drivers includes:
Reimbursement for headlamps replaced prior to October 25, 2021 due to dimming issues;
A three-year extension of the warranty covering headlight dimming due to delamination, bringing the total warranty period to six years;
Immediate headlight replacement from an authorized dealer for those whose vehicles are still within the six-year extended warranty period, with Nissan reimbursing out-of-pocket costs; and
A one-time headlamp replacement from an authorized dealer for Altimas that are or will be outside of the extended warranty period as of January 2022.
Eligible Nissan Altima owners and lessees can file a claim for out-of-pocket expenses related to their headlight replacements here. (Note: the settlement website indicates that the online form will be functional on or around August 12.) The deadline by which to file claims for reimbursement is April 25, 2022.
Once the settlement takes effect, the administrator will mail a postcard notice to Altima drivers who are outside of the six-year extended warranty period, stating that they will have 65 days to submit a form requesting free headlamp replacements. There will then be a six-month window in which to obtain free headlamp replacements from an authorized Nissan dealer.
If you do nothing, you will still be included and will automatically receive a three-year extension of the warranty on the headlamps of your Altima.
Answers to frequently asked questions can be found on the settlement website here.
Don't miss out on settlement news like this. Sign up for ClassAction.org's free weekly newsletter here.
June 4, 2021 – Parties File Joint Motion for Preliminary Settlement Approval; Deal Awaits Judge's OK
The parties handling the proposed class action detailed on this page filed a joint motion for preliminary settlement approval on May 24, 2021, effectively asking the judge to green-light a deal to end the lawsuit.
If approved, the proposed settlement, outlined here, will cover all U.S. residents who are current or former owners or lessees of 2013-2018 Nissan Altimas, excluding those with certain 2.5L and 3.5L SL and SR trim packages and special editions.
"For clarity, the Settlement Class Vehicles include all 2013-2018 Altimas manufactured with halogen headlamps, and excludes 2013-2018 Altimas manufactured with Xenon or LED headlamps," the motion states.
According to the preliminary settlement agreement, benefits for those covered by the proposed deal include three years of extended warranty coverage for headlamp delamination beyond the original new vehicle limited warranty, meaning Nissan will provide a total of six years of coverage for headlamp delamination issues. To receive a free headlamp replacement assembly under the extended warranty, a driver must present their vehicle to an authorized Nissan dealer within the new vehicle limited or extended warranty period.
Drivers whose extended warranty coverage is expired on the date the settlement takes effect must submit an out-of-warranty claim form within 65 days and obtain a free replacement headlamp assembly within the six months thereafter. Nissan has also agreed to reimburse qualifying out-of-pocket expenses incurred by Altima drivers who paid for headlamp assembly replacements, so long as a timely reimbursement claim form is submitted.
Drivers will be able to file claims for settlement benefits if and when the deal receives approval from the judge. If the settlement receives preliminary approval, more information will become available on the yet-to-go-live settlement website—AltimaHeadlightSettlement.com.
ClassAction.org will update this page with any additional developments.
The halogen headlamps found in 2013-2018 model year Nissan Altimas suffer from a defect that can cause the reflective surface inside of the lights' assembly to become dull, leading the low-beam headlights to become progressively dimmer over time, according to a proposed class action.
The 51-page lawsuit, filed in Tennessee on May 14, claims the progressive dimming of affected Altimas' headlights can become so severe that it presents a significant safety hazard. According to the complaint, many Altima drivers have reported being afraid to drive their vehicles at night, and some have reportedly been pulled over by police due to headlight dimness.
Nissan, the suit says, has been aware of the apparent headlight defect since at least 2013 yet has failed to disclose the issue to owners and lessees. Moreover, Nissan has also refused to provide free headlamp replacements to proposed class members, who are usually charged by a dealership for costly repairs given the necessity to replace the entire headlamp assembly.
The suit clarifies that the issue with the headlamps found in 2013-2018 Altimas is not with the light bulbs themselves but a defect in the headlamp assembly, the sealed unit that houses both the low- and high-beam headlights. Affected vehicles are equipped with a type of headlamp called a projector headlamp, in which the bulb is housed within a reflective cup (bottom image) or bowl that reflects light forward through a semi-spherical focusing lens (top image), the case explains.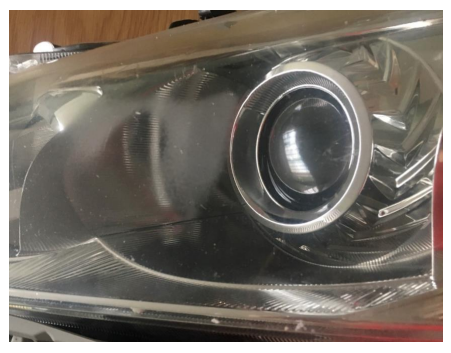 Made clear in the complaint is that the apparent issue is not haze on an affected vehicle's headlamp's outer surface due to age, or dimming of the light bulb over time due to normal wear but rather a design or manufacturing defect that leads to "seriously dim and dangerous headlights, often within just a few years." Replacing an Altima's headlight bulb does nothing to fix the issue, the case says.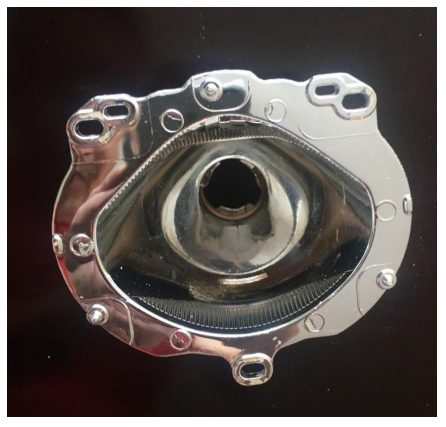 According to the suit, it is well known in the auto industry that compact projector headlamps must be carefully manufactured and designed to ensure that the reflector cup is robust enough to withstand heat from the light bulb, and doubly so for halogen bulbs given they generate significantly more heat. Additionally, projector headlamps must be able to seal out ambient moisture, which, when combined with the heat from a bulb, can degrade the surfaces within the headlamp, including the reflector cup, the case continues.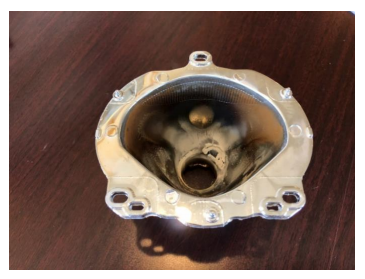 The lawsuit alleges the Altimas' headlamps are defective in that they were designed and manufactured in a manner that's left them unable to sufficiently withstand heat and/or seal out humidity, causing the inner reflective surface of the projector cup to burn or "outgas," i.e. vaporize, the reflective coating. The outgassing of the reflective coating may cause it to appear burned, and drastically reduce a headlamp's light output, the complaint relays.
As the suit tells it, the effects of the Nissan Altima headlamp defect can cause trouble for drivers:
"Over time, the dimming often gets so bad that Altima drivers report that they must either drive without being able to see the road, which has resulted in accidents, near accidents, and getting pulled over by police, or else use their high beam lights at all times, which is both illegal and dangerous. Other Altima owners report that they have been forced to stop driving their vehicles at night altogether. There is no question that this defect can result in a safety hazard for Altima owners, other drivers, and pedestrians."
The lawsuit asserts that Altima drivers have been unable to safely operate their vehicles for significant periods of time due to the apparent headlamp defect.
"No reasonable consumer expects to only be able to drive their car during the daytime," the complaint contends.
The lawsuit goes on to mention that numerous complaints about the headlamp-dimness problem appear on websites that Nissan actively monitors, including owner message boards and the National Highway Traffic Safety Administration's site. The automaker has had superior knowledge of the issue for years yet has concealed the defect's existence, the suit alleges, claiming Nissan and its dealerships have taken to telling drivers there is nothing wrong with their cars, even when the headlights are obviously dim.
The case looks to represent all persons in the United States who bought or leased, other than for resale, a 2013-2018 Nissan Altima manufactured with halogen headlamps.
Get class action lawsuit news sent to your inbox – sign up for ClassAction.org's free weekly newsletter here.
Last Updated on August 9, 2021 — 2:53 PM