Class Action Lawsuit Challenges 'With Fiber' Claim on Welch's Fruit Snacks Labels
Last Updated on March 19, 2019
According to a class action, Welch's fruit snacks are deceptively labeled in that their fiber ingredient comes not from fruit, but from chicory root.
Welch's "mixed fruit" and "berries n' cherries" fruit snacks are at the center of a proposed class action lawsuit wherein a New York man alleges the source of the fiber in the products is not what reasonable consumers may think. The case out of New York claims defendants Welch Foods Inc. and A Cooperative and Promotion in Motion, Inc.'s representations of the fruit snacks are misleading in that the fiber in the products is derived not from real fruit, but from chicory root
Along with boasting the presence of "real fruit," the products' labels, the suit says, make note of their vitamin contents, natural coloring, and that the fruit snacks are "with fiber." Such representations, the lawsuit says, give reasonable consumers the impression that the fruit snacks are nutritious, healthy, and comprised of non-synthetic ingredients.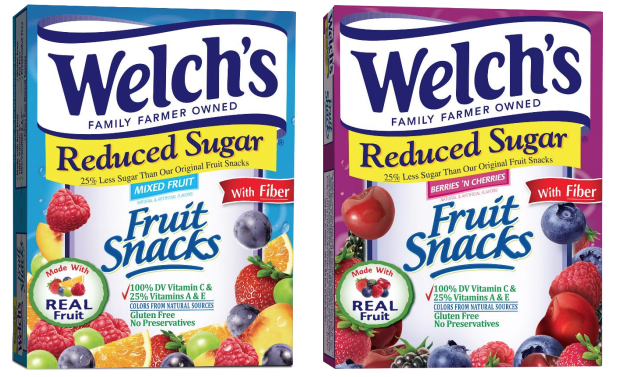 The complaint, however, picks specifically at Welch's "with fiber" claim, arguing that displaying the boast prominently on the products' labels alongside images of fruits can reasonably lead a consumer to believe both that the fruit snacks are dietarily good sources of fiber and that said fiber is derived from the fruits pictured on the label. According to the ingredients list, chicory root fiber, the actual source of fiber in the products, is the fourth-most predominant ingredient by weight, the case says. While "with fiber" may not be inaccurate, the lawsuit argues it is misleading and deceptive all the same:
"The representation – 'With Fiber' – gives the impression the Products are a dietarily significant or a good source of fiber, which is false, deceptive and misleading because they contain less than 10% of the DRV per reference amount customarily consumed," the complaint reads, alleging the fruit snacks are "neither a 'good source' of fiber" nor made with fiber derived from fruit.
Last Updated on March 19, 2019 — 4:03 PM