Lowe's Flooring Lawsuit Investigation for Formaldehyde Emissions
Last Updated on January 30, 2019
Investigation Complete
Attorneys working with ClassAction.org have finished their investigation into this matter.
Check back for any potential updates and take a look at our open investigations here. The information on this page is for reference only.
At A
Glance
This Alert Affects

Anyone who bought Lowe's Tescun line of Chinese-made laminate flooring.

What's Going On?

Attorneys are investigating whether people who bought Lowe's Tescun line of flooring can file a class action lawsuit against the company.

What Started This Investigation?

On May 1, 2015, Seeking Alpha published a report that alleged Lowe's Tescun line of flooring contains toxic levels of formaldehyde. Days after, Lowe's recalled the product.
Case Update
Important Information
Thank you to everyone who contacted us regarding their Lowe's flooring. At this point, attorneys working with ClassAction.org have investigated the matter and are not going to pursue it any further. That being said, if you believe you have a legal claim in regard to Lowe's laminate flooring, we strongly encourage you to contact an attorney in your area for more information regarding your legal options. There are time limits for filing lawsuits – so it's important to act quickly.
You can view our current list of lawsuits and investigations here.
If you bought Tescun laminate flooring from Lowe's, you may be able to help get a class action lawsuit started against the company. Reports have surfaced that the store's Chinese-made laminate flooring contains toxic levels of formaldehyde, a chemical that can cause serious health problems with prolonged exposure. In light of this information, attorneys believe that a class action lawsuit can be filed against Lowe's for selling a potentially dangerous product.
What Started the Investigation?
On May 1, 2015, Seeking Alpha published a report by hedge fund analyst Xuhua Zhou. Zhou claimed in his report that the 60 Minutes investigation – which exposed Lumber Liquidators for selling laminate flooring that contained toxic levels of formaldehyde – didn't get "the whole story."
According to Zhou, Lowe's had been selling "similar questionable products as recently as late March" and even used money from his own pocket to get the company's Chinese-made flooring tested for formaldehyde emissions.
Zhou sent a sample of Lowe's FH/L 3603 Chocolate Cherry Hickory to Benchmark International, one of the companies used by 60 Minutes to test Lumber Liquidators' flooring. This particular product was manufactured in China by Tescun – the same company that also supplies flooring to Lumber Liquidators – and claimed to be compliant with California's strict code on formaldehyde emissions.
What Did the Test Reveal?
The test revealed that the sample contained ten times the amount set by the California Air Resources Board for safe formaldehyde emissions.
Specifically, the results from the Lowe's sample were 1.134 parts-per-million (ppm), an "extraordinarily high number" and one that is cause for concern, according to the lab that conducted the test. (The threshold for safe formaldehyde emissions in California is 0.11 ppm.)
60 Minutes tested 31 samples of Lumber Liquidators Chinese-made laminate flooring. Of these samples, only two had higher formaldehyde emissions than the Lowe's sample.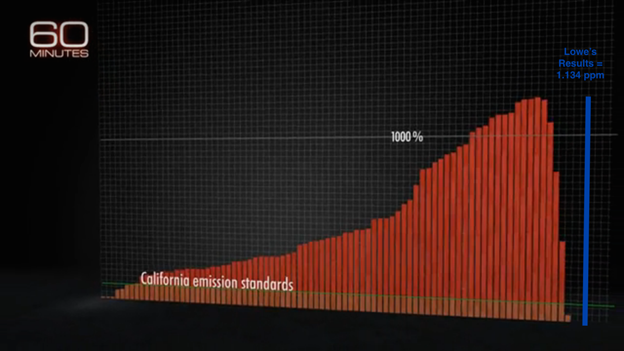 (60 Minutes image from SeekingAlpha.com)
After the report was published, Lowe's recalled its Tescun laminate flooring, a product that was only sold online. The company said in a statement that it had been moving away from products made in China and that, at the time, only 10% of its laminate flooring was manufactured outside of the United States.
How Can a Lawsuit Help?
If a lawsuit is filed against Lowe's, people who have the Tescun flooring in their homes and businesses may be entitled to compensation. This may include money for removing and replacing the flooring. Lumber Liquidators is facing more than a hundred lawsuits over its Chinese-made flooring and attorneys have reason to believe that similar cases can be brought against Lowe's.
Before commenting, please review our comment policy.