Lawsuit Claims Buffalo Trace Is Scamming Bourbon Buyers
If you're an avid bourbon drinker, you probably know that Buffalo Trace has stopped aging its Old Charter bourbon for the usual eight years. You also probably know that those eight years used to give Old Charter a better flavor and an overall higher quality. Well, a lawsuit has now been filed against Buffalo Trace over how they've been marketing their noticeably inferior product.
It's arguably no big deal (though unfortunate for the customer) when a company decides to put less time and effort into making its products the best they can. You do what you need to do to stay in business – especially when you make a product that normally takes eight years for one batch to hit the shelves. I'm not saying it's a good thing – I want a good product for my money just like anyone else, but legally speaking, it's passable. It starts to become a problem when companies continue to advertise low-quality products like nothing has changed.
In the case of Old Charter, changes were made to reflect very subtle alterations in its production process. If you look at a bottle of Old Charter made after (approximately) January 2014, it no longer says "Aged 8 Years." Buffalo Trace did decide to leave the big blue "8" on the neck of the bottle (among other locations on the label) which, according to the complaint, is incredibly deceptive.
Check out the old label compared with the new one: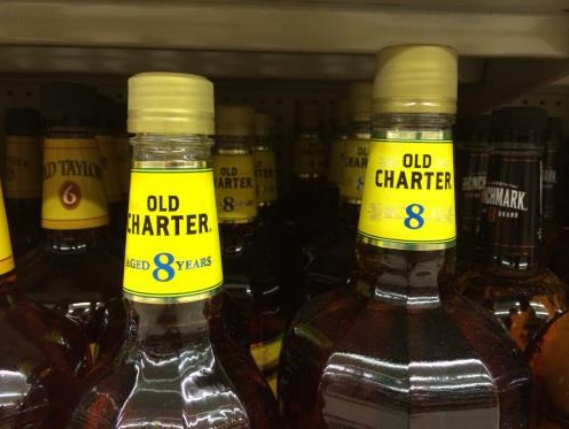 It's almost like someone tried to make an incredibly simple "spot the differences" picture. You know, like the ones you'd find in a kid's coloring book or on the back of a cereal box.
Anyway. Moving on.
The suit claims that a reasonable bourbon drinker could purchase Old Charter – expecting it to be the "Aged 8 Years" variant – and be met with utter disappointment at what they actually paid for. It's an easy assumption to make when the label has been virtually unchanged.
Lead plaintiff Nicholas Parker is looking to represent a class of people who were allegedly misled by Buffalo Trace's advertising tactics. The lawsuit could proceed as a nationwide class action, compensate those who bought the product, and order Buffalo Trace to change how it advertises the product in question.
If you're thirsty for more information, check out the complaint. It's a good one – easy to read AND it has pictures.
Camp Lejeune
Camp Lejeune residents may soon have the opportunity to claim compensation for harm suffered from contaminated water.
Read more here: Camp Lejeune Lawsuit Claims
Stay Current
Sign Up For
Our Newsletter
New cases and investigations, settlement deadlines, and news straight to your inbox.
Last Updated on February 6, 2019 — 12:05 PM