Class Action Alleges that Despite Claims, Yeti Coolers' Rambler Colster Does Not Fit Beer Cans 'Like a Glove'
If someone handed you a product that could supposedly keep your beverage of choice cold for "so long that you'll have to re-think your understanding of a few natural laws," you'd be a bit skeptical, right? According to the allegations laid out in a proposed class action lawsuit against Yeti Coolers, you wouldn't be wrong to question the capabilities of such a contraption.
What does the lawsuit say exactly?
While Yeti Coolers boasts, among other claims, that its Rambler Colster can secure bottles and cans in place "like a glove—a glove with double-wall vacuum insulation," the lawsuit says the product does no such thing. In fact, according to the 40-page case out of New York, the Rambler Colster's design actually allows for cans and bottles to "easily slip out" of the casing when consumers attempt to drink.
More concerning, however, is the plaintiffs' allegation that the friction created when the Rambler Colster is used with certain aluminum cans can produce a "soupy mix of rusty or corrosive metal shavings." This poses a danger to the drinker because it can be easy for the metal shavings to be ingested, the case says. It can also supposedly cause a beverage to develop a metallic taste.
All told, proposed class members paid Yeti Coolers a premium price for a product that simply does not work as advertised, according to the case.
Consumers…are lured and duped into purchasing the product for an average retail price of $24.99 based on Defendant's false representations."
A lawsuit was filed . . . over a beer koozie?
But it's not just any beer koozie, you see.
Yeti Coolers made its name marketing high-end, well, coolers to those who enjoy the outdoors and live active lifestyles but who also enjoy knocking back a few cold ones. Over the years, the company expanded its pricey product offerings to a line of rust-resistant cup holders that supposedly keep drinks cold longer and are ideal for drinking beer in even the most rugged environments.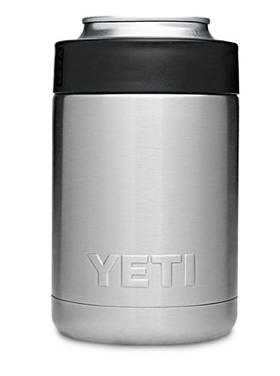 The product you see above is effectively the Rolls Royce of beer holders. It comes equipped with what Yeti calls "Load and Lock Gasket" technology that can supposedly keep standard cans and 12 oz. bottles secure.
The complaint says that Yeti's use of the phrase "Load and Lock," however, is misleading in that most reasonable consumers would take that language to quite literally mean you load in a beer and the product keeps it locked in place – something the suit says the Rambler Colster is unable to do for the majority of beers.
[T]he Product cannot securely hold Bud Light, Coors Light, Budweiser, Michelob Ultra Light, Natural Light, Busch Light or Busch. This list does not include the countless craft beer bottles the Product cannot hold securely."
This not only creates a risk of wasteful spillage, the case says, but may also allow for a bottle to slip out of the holder and knock right into the drinker's mouth and/or teeth.
Who does the lawsuit look to cover?
The case asks the court to cover a class of consumers nationwide who purchased Yeti Coolers' Rambler Colster at any time during the to-be-defined class period. The plaintiffs additionally look to certify subclasses of consumers in New York and Wisconsin.
You really wrote an entire blog about a fancy beer koozie?
I sure did. Happy Monday. Enjoy your week, everyone.
Last Updated on December 3, 2018 — 2:43 PM