Lawsuits Being Considered for Ameriwood Dresser Tip-Over Risk
April 24, 2019
At A
Glance
This Alert Affects:

People who own certain Mainstays dressers made by Ameriwood Home. A photo of the specific product can be seen below.

What's the Problem?

The dressers were recalled for a tip-over risk in 2017; however, attorneys think the recall did little to fix the problem and want to see if a class action lawsuit could be filed. But first, they need to speak with people who own the dressers.

What You Can Do

If you have this dresser in your home, fill out the form on this page. Any information you provide can be helpful in getting a class action lawsuit started.

How Can a Class Action Help?

A class action lawsuit may be able to help people get back the money they spent on the dresser. The dressers retailed for about $60.
Attorneys working with ClassAction.org would like to speak to anyone who owns an Ameriwood Home Mainstays dresser.
In September 2017, some of these dressers were recalled for a tip-over risk. Now, attorneys think they may be able to get a class action lawsuit started to help consumers get a refund for this potentially dangerous product.
Tell Me More About the Dresser.
The dresser at issue is known as a "Mainstays chest of drawers" made by Ameriwood Home and looks like this: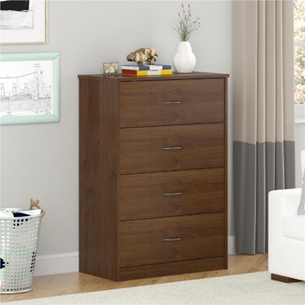 The four-drawer dressers came in several colors: black forest; alder; white; weathered oak; walnut; and ruby red. They were sold at Walmart and other retailers between April 2009 and May 2016 and cost about $60.
What's the Problem?
In September 2017, the Consumer Product Safety Commission recalled about 1.6 million of these dressers due to a high tip-over rate and entrapment hazard. The recall announcement called the dressers "unstable" and noted that if the units were not anchored to the wall, they could tip over and cause injury or death to children.
Ameriwood Home offered a free repair kit that included a device to anchor the affected dressers to the wall; however, it is believed that only around 50 people ever claimed their kits due to lack of awareness of the recall.
Why a Class Action Lawsuit?
Attorneys believe that Ameriwood Home customers didn't get what they paid for when they bought one of the recalled dressers – that is, a safe dresser without a heightened tip-over risk. Further, while anchoring will prevent the tip-over risk, attorneys believe the manufacturer should take responsibility and improve their standards to protect both customers and children.
If you have one of these dressers in your home, contact us today by filling out the form on this page. You may be able to help get a class action lawsuit started against Ameriwood Home.
Before commenting, please review our comment policy.