Attorneys Investigating Lawsuits Against Manufacturers of
Leaking Under-Sink Water Filters
Last Updated on May 1, 2020
Important Information
Attorneys working with ClassAction.org are no longer investigating this matter. The information here is for reference only. A list of open investigations and lawsuits can be viewed here.
April 13, 2020 – Investigation Closed

Thank you to everyone who helped contribute to this investigation. At this point, attorneys working with ClassAction.org no longer need to speak to people who had issues with their water filters. For our up-to-date list of investigations, please visit this page. The information below is for reference only and was posted when the investigation began.
At A
Glance
This Alert Affects:

Anyone who has an under-sink water filter.

What Are Under-Sink Water Filters?

Under-sink water filters are systems fitted under your sink or counter that use changeable cartridges to filter water before it gets to the drinking tap.

What's the Problem?

Attorneys have reason to believe the casings of some under-sink water filters are defective and can crack or lose their watertight seals when placed under pressure. This can result in flooding and property damage.

Which Brands Are Affected?

Attorneys are still trying to determine which brands are prone to these problems and need to hear from those who own the products to help with their investigations. The following, however, is a list of companies that make under-sink and under-counter water filters: General Electric, General Appliance, Aquasana, Wood Brothers, Whirlpool, Emerson Electric, Cuno, Culligan International, Clearbrook and Omnipure/Pentair Filter Company.
Attorneys are investigating whether class action lawsuits can be filed against manufacturers of under-sink water filters.
They have reason to believe that water filters produced by several leading companies are defectively designed and can crack, leak and/or drip, causing flooding and property damage. The attorneys believe these companies can be sued through a class action lawsuit, but first need to hear from people who own under-sink water filters to continue their investigation.
What's Wrong with My Under-Sink Water Filter?
It's believed that certain filters are designed in a way that allows stress to fall unevenly on their polymer casings, which hold the filters in place. This means that water pressure isn't evenly distributed throughout the products, leaving the plastic casings or housings prone to failure.
It is believed that this issue stems from the manufacturers' failure to meet industry standards outlining how much talc should be added to these products.
Talc provides under-sink water filters with additional strength and, when evenly dispersed in a high-enough quantity, has been shown to prevent the plastic casings from "creeping" or cracking.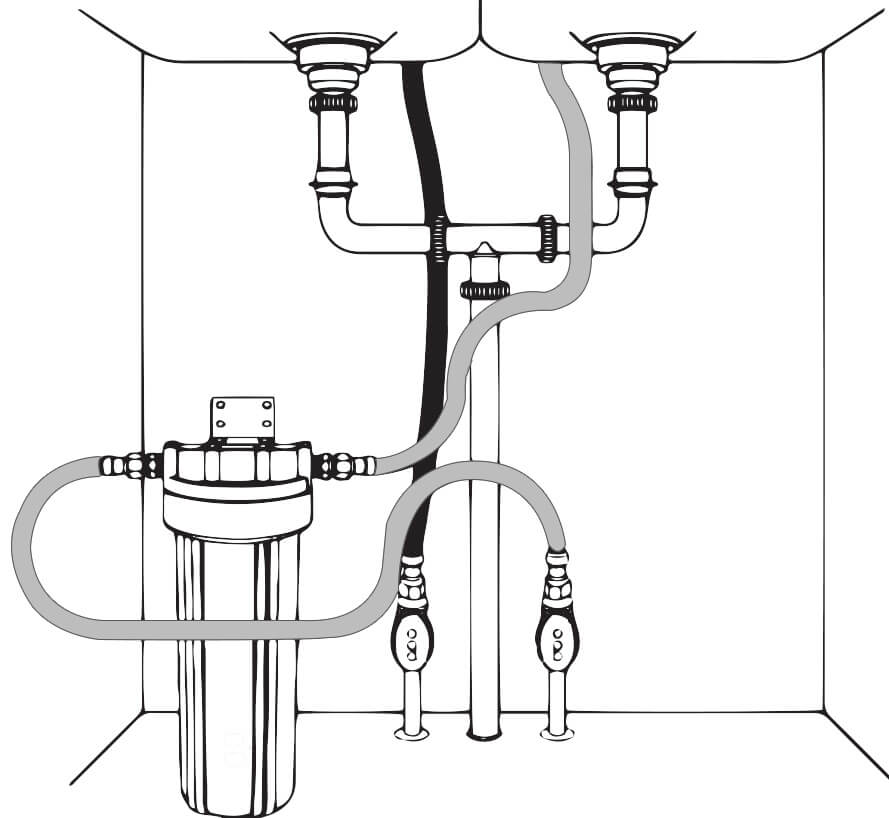 What Is Creeping?
Creeping occurs when the plastic casing (also known as the "canister" or "housing") shifts due to a weakness in the material. This can cause the filters to lose their shape and, in some cases, their watertight seals. If the canister cracks or creeps, any leaks can render the device inoperable and may lead to flooding and property damage.
How Many People Have Experienced Problems?
The number of people and products affected by this alleged design defect is still unknown. Many consumers who have experienced problems with their water filter systems, however, have posted their stories online. Some of their complaints include:
"I had realistic expectations for this filter. It is not very pricey, but it looked like it would get the job done. I was WRONG! After having to make a trip to the hardware store to replace the worthless T-Joint that came with this, I finally got the system hooked up. I turned on the filter and within seconds there was water everywhere. I looked at the connections to make sure I had done everything correctly and discovered that there was a crack in the top of the unit! Water was spraying everywhere and long after I shut the water off. It drenched my cabinet space."
—C. Gaston, Whirlpool Undersink Water Filtration System
"After 11 months of service the plastic stem of the faucet broke and flooded my kitchen cabinet and the basement wall. I have yet to see the warranty response [...] But Culligan going for a one or two dollar saving using plastic faucet part under strain vs. the liability of flooding a house demonstrates very bad judgment from Culligan."
—Gabe, Culligan Under Sink Drinker Water System
"Although this product worked wonderfully for almost six months, the fittings began to leak without warning and almost caused quite a problem and a lot of damage in my kitchen."
—Corey, Aquasana Under Counter Water Filter System
"Have been using an Omni filter for 8 years in my home when the bottom filter housing developed a split and nearly flooded my basement. Ordered this one that has the same part number to simply screw on the new housing however thread design has been changed so that would not fit. Attempted to reinstall entire filter but found water line attachments have been altered to a flimsy plastic hose attachment setup that I had no confidence in."
—Jricky, Pentair OmniFilter
Before commenting, please review our comment policy.