Surge Protector
Fire Hazard Lawsuits
Last Updated on January 11, 2022
At A
Glance
This Alert Affects:

Anyone who purchased or owns a surge protector that has caught fire.

What's a Surge Protector?

A surge protector (also known as a surge suppressor) is a device that protects electrical appliances from voltage spikes by limiting or grounding excess voltage.

What's Wrong?

It is believed that some surge protectors are defective and likely to overheat, smoke, melt and/or catch fire even when used properly.

Are Any Particular Models Affected?

Attorneys working with ClassAction.org are investigating all models of surge protectors; however, the following surge protector models were reportedly linked to a fire risk: Supco Model SCM150 and Sycom Model SYC 120/240-T2 manufactured by Sycom Surge, Inc. These are often installed by contractors with heating and air conditioning units.
Attorneys are investigating potential class action lawsuits over defective surge protectors.
These devices, which are designed to protect your electrical appliances by blocking excess voltage and/or grounding voltage spikes, can cause significant damage if they catch fire. While one brand of surge protectors was recalled in late 2013 over a fire hazard, it is possible that other companies' products may pose a similar risk.
Which Brands Are Under Investigation?
Attorneys working with ClassAction.org are looking into any brand surge protector that caught fire. A handful of companies have come under scrutiny over the past several years, with one company recalling its products and another being the center of a warning from a local fire department.
Fire Department Issues Warning on Supco, Sycom Surge Protectors
In May 2018, a fire department in North Carolina issued a press release that shared a notification from UL LLC, a global safety consulting and certification company, warning consumers of certain surge protectors that may pose a fire hazard. The announcement was centered on two specific surge protectors often installed with HVAC units: Supco model SCM150 and Sycom model SYC-120/240-T2 manufactured by Sycom Surge, Inc. One contractor complained online that the Supco model started six fires in his customers' homes.
A picture of the surge protectors noted in the press release can be seen below.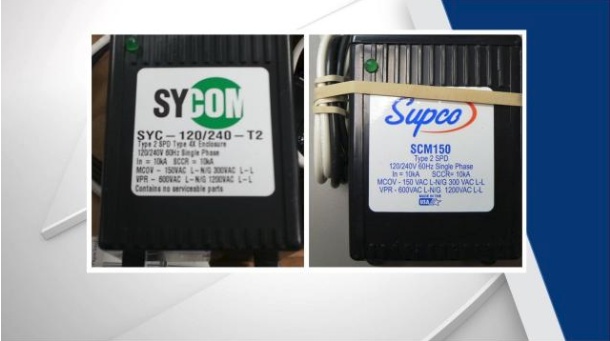 Serious Fire Hazard Leads to Surge Protector Recall
On October 3, 2013, the Consumer Product Safety Commission announced a recall of 15 million Schneider Electric APC Surge Protectors. In its release, the CPSC noted that "the surge protectors can overheat, smoke and melt, posing a fire hazard." The agency received more than 700 reports of surge protectors overheating, melting and smoking, as well as 55 reports of property damage. Multiple injuries were also reported, including burns from touching a surge protector and smoke inhalation.
The affected surge protectors, also sold under the manufacturer's previous name American Power Conversion, had been on sale since 1993.
It's not yet known which other brands may pose a similar risk; however, attorneys have reason to believe that there are surge protectors on the market that are defective and pose a serious risk of injury and property damage.
If you experienced overheating, smoking or fire with your surge protector, these attorneys want to hear from you. You may be able to start a class action against the manufacturer to recover compensation for property damage and other losses. If you've had problems with your surge protector, fill out the form on this page.
Before commenting, please review our comment policy.