Lawsuit Investigation Looks into Oetiker Stainless Steel PEX Clamps
Last Updated on August 15, 2023
Investigation Complete
Attorneys working with ClassAction.org have finished their investigation into this matter.
Check back for any potential updates and take a look at our open investigations here. The information on this page is for reference only.
August 15, 2023 – Investigation Closed

Thank you to everyone who reached out to help with this investigation. The attorneys working with ClassAction.org have decided not to proceed with a lawsuit and the investigation has been closed.

If you have questions about your legal rights or what options you have going forward, we would encourage you to speak with an attorney. You can learn more about how to find an attorney on this page.

Head over to this page for a list of ongoing investigations and you can sign up for our free newsletter here.
At A
Glance
This Alert Affects:

Anyone who experienced leaking, corrosion or flooding with their Oetiker stainless steel PEX clamps.

What's Going On?

Attorneys working with ClassAction.org are investigating whether a defect is causing Oetiker stainless steel PEX clamps to crack or fracture and, if so, whether a class action lawsuit can be filed. To help with their investigation, the attorneys need to speak to people who used the PEX clamps at issue and experienced leaking, flooding or other problems.

What Do the Clamps Look Like?

The clamps are made of stainless steel and have the letters "OET" engraved into them. You can view a picture of the product below.

How Could a Class Action Lawsuit Help?

A class action lawsuit could help consumers recover compensation for property damage caused by the PEX clamps, as well as repair costs.
Attorneys working with ClassAction.org are investigating whether a class action lawsuit can be filed on behalf of individuals who have Oetiker stainless steel PEX clamps installed in their properties.
Allegations have surfaced that the clamps may be prone to unexpected and sudden failure, which can result in flooding, leaking and subsequent property damage. To help with their investigation, the attorneys are asking to hear from anyone who has experienced problems with the clamps.
Remember to hold onto the clamp and any other pieces you believe are to blame for the plumbing issues in your home. Attorneys may not be able to help you if you throw them out.
What Could Be Causing the Clamps to Fail?
Attorneys are investigating whether Oetiker's stainless steel PEX clamps contain a manufacturing and/or design defect that makes the PEX clamps susceptible to "stress corrosion cracking," – that is, cracking caused by tension, stress and a corrosive environment.
In December 2019, State Farm Insurance filed a lawsuit seeking to recover the money it paid to resolve an insured's claim after Oetiker's stainless steel PEX fittings failed and caused a flood in a homeowner's bathroom, resulting in thousands of dollars in damage.
State Farm's engineer examined the Oetiker clamps found in the home and noted that they had cracked, severed and showed signs of corrosion and brittleness. The suit says that the clamps were "prone to stress corrosion cracking due to exposure to potable water" and were therefore defective.
According to the lawsuit, Oetiker provides no guidance on how to prevent cracking and suggests that the clamps are able to withstand "moderate exposure" to chlorine, meaning they should be able to tolerate the low levels found in tap water. Oetiker's product also contains no warning that installing the clamps on a hot water line could cause or accelerate corrosion, according to the suit.
State Farm is not the only company that has sued Oetiker over its PEX clamps, as several other lawsuits have been filed by insurers who allege the product is "unreasonably dangerous," "susceptible to fracturing" and can unexpectedly malfunction within its "useful life."
Attorneys are now looking to get a class action started to help consumers who have these clamps installed in their homes.
How Do I Know If My Plumbing System Uses Oetiker PEX Clamps?
The letters "OET" are etched into the clamps, which are made of stainless steel. You can view an image of an Oetiker PEX clamp below: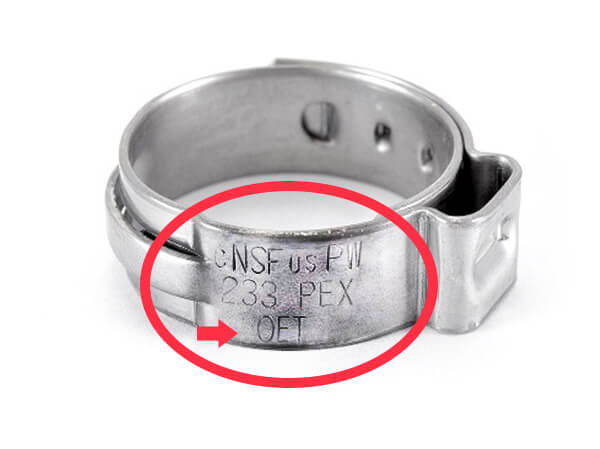 If you are unsure as to whether your clamp is an Oetiker product, check with your plumber.
How Could a Class Action Lawsuit Help?
If filed and successful, a class action lawsuit could help consumers recover money for property damage and repair costs related to the clamps. It could also force Oetiker to provide different warnings or guidance with its clamps or to recall the product entirely.
Consumers Complain of Water Leaks, Corrosion, Property Damage
Several complaints have been posted online with regard to Oetiker's stainless steel PEX clamps. A sample of these complaints can be found below [sic throughout, emphasis ours]:
DO NOT use these for plumbing homes with pex. Hot water corrodes them causing them to split. I built my dream home five years ago & plumber used this product. Three leaks & two floor replacements later..... there's potential for a water leak everywhere there's one of these clamps located in my house. Plumbers & restoration workers are beginning to see a pattern. My home is now for sale."
— DoNotUseInHome, HomeDepot.com
Very poor quality. 1/2 of the clamps either broke on tightening or leaked on pressure test. My workers showed me the difference between these clamps and a Pex brand clamp and they are much lighter metal. Imagine the problems these clamps could cause if used behind drywall permanent walls…"
— Blessed, Amazon.com
Suffice it to say that we (family of 5) have been through hell because of Plumb-PEX RTI and Oetiker Ear Stainless Clamps/Crimps We had a flood that destroyed drywall, base board, marble floors etc. We have a 1 year old 4997 SQ FT 2 story home…The flood caused unbelievable damage. We have had to move from our home. The new plumber opened another wall yesterday and found another one that was about to blow."
— Julie, plbg.com
Before commenting, please review our comment policy.