Starbucks Hit with Two Class Actions Over Allegedly Improper Toxic Chemical Usage in Manhattan Stores
Last Updated on May 23, 2019
Fox et al. v. Starbucks Corporation et al.
Filed: May 21, 2019 ◆§ 1:19-cv-04650
According to a federal class action, Starbucks uses at its Manhattan-area locations pesticide strips that contain DDVP, a toxin unsafe for use near food or in closed-in areas.
Starbucks finds itself as the defendant in two proposed class action lawsuits in New York over its Manhattan stores' alleged use of toxic, pest-fighting chemicals that the suit describes as being "highly poisonous and completely unfit for use in proximity to food, beverages and people."
Claiming that it "pulls back the curtain" on Starbucks' self-styling as a paragon corporation, the case filed in New York's Southern District says the coffee chain apparently used the toxic chemicals to combat the inherent threat of pest infestation, a problem faced by all food establishments. According to the lawsuit, which was filed by a former employee, a former certified pest control technician, and the former director of a company that periodically trained Starbucks management on best pest control practices, Manhattan-area Starbucks stores have "continuously failed to take necessary or adequate measures to ensure cleanliness" and have acted with "reckless indifference" to the health and safety of both the public and its employees.
As the suit tells it, Starbucks, rather than address store cleanliness properly, has instead "recklessly hid hazardous pesticides throughout their stores," including near food and food preparation areas. Worse, the suit alleges, this was done in Manhattan-area stores in a systematic fashion and "with the apparent knowledge and approval of Starbucks Corporate Leadership" even in the face of more than one warning that the locations' chemical usage "was dangerous and unlawful."
Both lawsuits focus in particular on Starbucks' alleged use of powerful insecticide strips encased in perforated plastic boxes called "Hot Shot No-Pest 2" strips. Available in many home and garden stores, this pest-fighting product diffuses a "deep penetrating vapor" from a 65-gram strip laden with a toxin known as DDVP, which can reportedly kill insects within a roughly 1,200 cubic-foot radius for four months.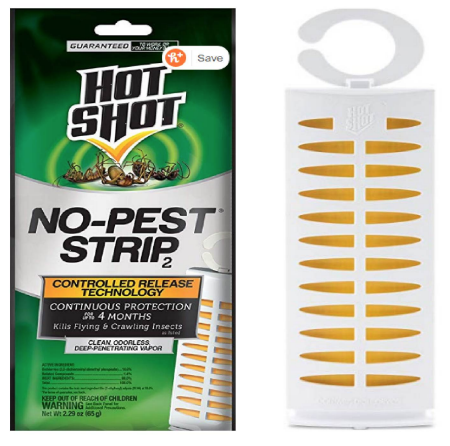 According to the lawsuit, DDVP is hazardous to humans, and the No-Pest strips come with labeling that clearly advises the product is not to be used "in occupied areas or in the vicinity of food or food preparation areas." Dangers notwithstanding, Starbucks personnel are alleged to have "continued to knowingly permit these No-Pest Strips to permeate Starbucks stores throughout Manhattan." Given how often they worked in an around Manhattan-area Starbucks stores, the plaintiffs stress that they were exposed to DDVP in close quarters for years.
The case goes on to mention the plaintiffs each warned Starbucks that DDVP-containing No-Pest strips were routinely placed in multiple store locations. According to the former pest control technician, the strips were placed "within virtually each of the more than 100" Starbucks stores he serviced between early 2015 and June 2018. The former employee plaintiff, who the suit says managed a store for 16 years until his employment was "abruptly terminated," claims he was in fact fired as a result of his repeated complaints about Starbucks' use of DDVP strips.
The proposed class action out of state supreme court was filed by 10 customers who claim they were exposed to DDVP and that Starbucks has failed to ensure that the chemical remains far from the proximity of its food and drinks. Beyond the company's actual use of the No-Pest Strips—which the plaintiffs allege stems from "unsanitary conditions [that] are often concealed in areas of stores not immediately visible or accessible to customers—Starbucks has allegedly possessed knowledge that the pest-fighting products were being used in its Manhattan stores and chose not to disclose such to the public. From the suit:
"On numerous occasions over the last several years, Starbucks' employees and third-party exterminators have informed regional and district management - both verbally and in writing - about the improper and dangerous use of No-Pest Strips throughout stores in Manhattan. Nonetheless, despite these complaints, Starbucks has continued to allow No-Pest Strips to be used in its Manhattan stores - left to contaminate the food and beverages that Starbucks sells to consumers as the most premium products available. Needless to say, Starbucks has closely held this information and has not disclosed to the public that DDVP has poisoned the environment in its stores."
Included in the state suit are pictures that appear to depict not only a few unsanitary conditions allegedly found at certain Manhattan Starbucks locations, but the company's seemingly widespread use of DDVP strips adjacent to food, food and drink preparation tools and stations, refrigerators, and air vents.
In a statement released this week, Starbucks pushed back against the suits.
"The lawsuits filed by the plaintiffs and their attorneys lack merit and are an attempt to incite public fear for their own financial gain," the company said. "We go to great lengths to ensure the safety of our partners and customers, and we are confident they have not been put at risk. Starbucks takes the concerns of its partners very seriously and does not take action or retaliate against partners who express them."
Both complaints can be read below.
Last Updated on May 23, 2019 — 12:05 PM