in
Newswire
Published on October 30, 2019
SaveMe Products Hit with Class Action Lawsuit After Reversal of FuelRod 'Free Unlimited Swaps' Promise [UPDATE]
Last Updated on February 28, 2020
A class action lawsuit has been filed over SaveMe Products' reversal of its long-time promise of "free unlimited swaps" for its FuelRod portable charger.
Update – November 12, 2019 – Disney Officials Say Consumers Will Still Be Able to Swap FuelRod Chargers for Free
In response to criticism sparked by the lawsuit detailed on this page, Disney officials said the plan to charge $3 to swap the defendants' FuelRod portable charger at Disneyland and Walt Disney World resorts will not go ahead. According to a report from the Orange County Register, guests will continue to be able to swap their FuelRod chargers at designated kiosks throughout Disney parks for no extra charge.
The "FuelRod" made and sold by SaveMe Products is at the center of a proposed class action that alleges consumers have been duped by the company's long-time offer of "free unlimited swaps" for the portable charger, a promise that, unbeknownst to customers, was reversed in early 2019.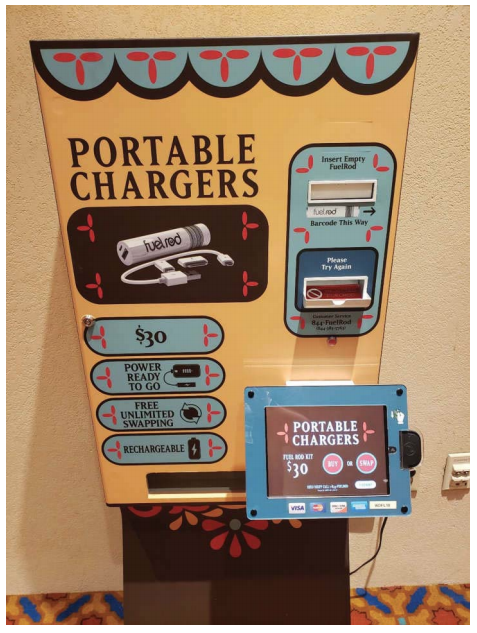 The 27-page complaint stresses the unilateral and fundamental change to defendants Tricopian, SaveMe Batteries North America and Tricopian (Switzerland) Sarl's marketing for the FuelRod effectively deprives customers of the primary benefit they believed they were receiving upon purchasing the product. While SaveMe long sold the FuelRod based on the claim that a buyer only had to pay for the product once and could exchange it for a fully-charged charger when it was depleted, the case stresses that the defendants did an about-face sometime in early 2019. According to the suit, the plaintiff and proposed class members who bought the FuelRod now own "a far less desirable product that they would not have purchased," or would have only bought at a lower price.
A sticking point in the case is the apparent sub-par performance of the defendants' product, which reportedly cost a "significant premium" despite what the case describes as the portable charger's underwhelming performance and specifications. With regard to milli-Ampere-hours (mAH), i.e. a charger's charging capacity, and the speed with which the product can power up a device, the defendants' FuelRod falls short on both fronts, and may actually be unable to charge larger devices, such as tablets, at all due to its shortcomings, the suit says. From the complaint:
"Portable chargers are likewise rated in terms of their mAh capacity. Theoretically, a portable charger rated at 3500 mAh would be able to fully charge a Galaxy s9 Plus one time before it needed to be recharged. Most commercially available portable chargers are rated at 10,000 mAh or higher and are accordingly capable of fully charging a phone 3 or more times on a single charge.
In this respect, Defendants' chargers fall short of the norm. They are rated at only 2600 mAh, meaning that they are unable to even deliver a single complete charge to a modern generation smartphone.
The other important criteria [sic] is charging speed, which for the purposes of portable chargers is measured in amps (A). Generally speaking, the higher the amp rating, the faster the charge is delivered.
In addition to the convenience factor associated with a faster charge, however, a lower amp rating can have other negative consequences. For example, it may not be able to a [sic] charge some devices that are in use fast enough to counter the ongoing battery drain or to provide a meaningful, useful charge, and may not be able to charge some larger devices, like certain tablets, at all."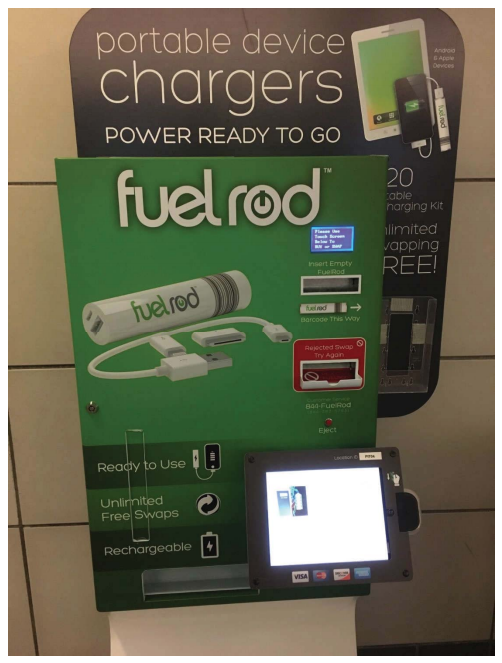 The defendants' FuelRod, the case says, falls on the lower end of the charging-speed spectrum, clocking in at only one amp.
After asking outright why a consumer would pay $30 for a portable charger that falls short in critical areas, the lawsuit answers by noting that consumers pay for both the product itself and the service that accompanies it, the defendants' free lifetime swaps. The companies have long made prevalent in their marketing the fact that consumers can swap a depleted FuelRod for a freshly-charged device, the case states, yet have within the last year begun charging a fee to consumers looking to switch out their portable chargers at any number of kiosks, include those positioned at Epcot at Walt Disney World.
Though the defendants have reportedly changed their stance on free unlimited swaps for life, the companies' marketing remains true to the old way, and still purports to offer consumers free unlimited swapping, the case says.
The lawsuit looks to cover all consumers and entities in the U.S. who bought a FuelRod from a kiosk that displayed signage indicating "free unlimited swapping," "unlimited free swaps," or similar language.
Last Updated on February 28, 2020 — 11:45 AM