Important Information
Thanks to everyone who contacted us regarding their Goodman/Amana HVAC units! We've received hundreds of inquiries about problems with the units and are pleased to announce that the litigation is moving forward. Right now, the lawyers we work with are waiting on a ruling from the judge to determine who will be part of the class – and therefore covered by any potential settlement – should the case be certified. Although the lawyers we work with do not need to speak with any additional Goodman/Amana HVAC owners, those concerned about their rights and whether they may be covered by any potential settlement should speak with an attorney in their area.
Stay tuned for more information as the case progresses! While we no longer need to hear from people with these HVAC units, we will continue to update this page as we get more information. One good way to stay in touch with us and to keep up with new settlements is to sign up for our newsletter or to follow us on Facebook and Twitter.
You can view our current list of lawsuits here.
What's The Problem?

The evaporator coils in certain Goodman air conditioners are allegedly too thin, and can corrode or crack, causing refrigerant to leak.

Company

Goodman Manufacturing, Co., Goodman Global, Inc.

Type of Lawsuit

Class Action
A class action lawsuit has been filed alleging that Goodman Manufacturing designed and sold defective air conditioners and other heating and cooling products. According to the lawsuit, the evaporator coils found within the company's air conditioners, heat pumps and air handlers are too thin and can corrode or crack, allowing refrigerant to leak. This, in turn, can cause other parts of the unit to fail, the suit claims. Goodman allegedly knew about the defect, but failed to provide adequate warnings to consumers, who have reportedly spent hundreds of thousands of dollars in repairs.
What Problems Are Being Caused by the Defective Evaporator Coils?
Goodman and Amana brand air conditioners, air handlers, and heat pumps are designed to provide both heating and cooling. In air conditioners, the evaporator coil is composed of piping connected to the unit and is usually made of metal and then filled with refrigerant. The refrigerant works to cool the air when the unit is working properly. According to the class action lawsuit, the evaporator coil in Goodman and Amana air conditioners is defectively designed and can crack and leak refrigerant, impacting the effectiveness of the unit or rendering it entirely inoperable. If the unit is working inefficiently, consumers' electricity bills may increase as the air conditioner will require more power to adequately cool the air. If leakage of the refrigerant from the evaporator coil leaves a unit completely ineffective, consumers may be forced to pay a repairman or technician to diagnose and address the problem.
Amana and Goodman Air Conditioner Problems Have Been Widely Reported
Goodman Manufacturing may have known about the allegedly defective coils in its products even before the class action lawsuit was filed. According to the suit, one Goodman dealer reported refrigerant leakage problems in around 80% of the products he sold between 2009 and 2011. Goodman also provided some distributors a $300 "allowance" for every product sold in order to cover repair costs for refrigerant leakage. However, the company is accused of failing to alert consumers to this problem. Goodman Global Inc. stated in a press release on February 2, 2012 that a new single-metal solution would be introduced to "prevent a leading cause of premature evaporator coil failure," yet failed to acknowledge that the failures were a widespread and common problem, according to the suit.
Complaints on sites such as furnancecompare.com and complaintboard.com date back to 2011 and consistently identify Goodman air conditioners as faulty. Many consumers who posted complaints on these sites expressed frustration at the cost of repairs and the difficulty they experienced isolating and fixing the problems. Just a few examples of posted complaints include:
"Had Goodman installed in November 2008 because 20 year old unit finally gave up. Had to have evaporator coil replaced in May 2010. May 2012, now the unit, once again, does not have any freon in it, evaporator coil has a leak. Installer says Goodman is low on evaporator coils because of so many of them failing."
"Bought a home in November 2011 that has three Goodman units, all of which only 18 months old. Can't keep them running. Coil replaced on one unit four days ago (took two weeks to get repaired under warranty) lasted three days and unit is now down again."
"The unit was installed in new house. Now 2 1/2 years later evaporator coil leaking and had to be replaced. The coil was rusted and deteriorated as if it were 15 years old. Even though it was 'under warranty,' I paid $20 s/h and over $400 to get new coil installed and unit cooling again. They claim the new coil is made better but that doesn't ease my pain."
New Refrigerant, Required By Law, Can Lead To Leaks
The Clean Air Act of 1990 gradually phased out a commonly used refrigerant, R-22 – also called Freon. In January 2010 new legislation required manufacturers to stop producing equipment that uses Freon, and other refrigerants, such as R-410A, were recommended as more environmentally friendly and energy efficient alternatives. However, R-410A and other replacement refrigerants operate at a much higher pressure than R-22. While this should not be a problem, the allegedly defective nature of Goodman Products' copper coils, already prone to corrosion, has meant that the risk of leaking refrigerant is now greater than before. The class action lawsuit filed against Goodman alleges that the company knew about the defect yet failed to disclose this information, even after a competitor company, Trane, began producing an all-aluminum air conditioning coil in 2005 in direct response to the higher pressure required by the use of R-410A.
What Is the Class Action Lawsuit Saying About Goodman?
Accusations in the class action lawsuit filed against Goodman Manufacturing include:
Goodman breached its warranty by failing to provide a product free of defects
The defects were not discoverable upon reasonable inspection
Goodman failed to adequately address the defect despite being notified in a timely manner
Goodman misrepresented the quality of its air conditioners and heat pumps
Goodman engaged in deceptive business practices by selling products they knew to be defective, failing to notify consumers of defects, and failing to repair defective products
Customers suffered financial damages because they purchased Goodman products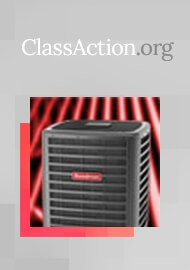 Goodman Global Inc. is facing a possible $803 million in damages for defects in its air conditioners and heating problems, the company said this week.… More