Cuisinart Lawsuit Investigation:
Does Your Toaster Oven Turn on by Itself?
Last Updated on August 23, 2022
Important Information
Attorneys working with ClassAction.org are no longer investigating this matter. The information here is for reference only. A list of open investigations and lawsuits can be viewed here.
August 23, 2022 – Investigation Closed

Thank you to everyone who reached out to us in regard to their Cuisinart toaster ovens. At this point, attorneys working with ClassAction.org have decided to close their investigation into this matter. This means they no longer need to hear from people who had issues with their toaster oven turning on by itself. If there are any further updates regarding the investigation, they will be posted to this page.

You can check out our open list of investigations here.
At A
Glance
This Alert Affects:

Anyone who purchased a Cuisinart TOB-40 toaster oven and experienced issues with the product turning on by itself or failing to shut off. Some consumers may have also had problems with the temperature getting stuck on high, potentially causing the glass front door to shatter due to the heat.

What's Going On?

Attorneys working with ClassAction.org are investigating whether these problems are caused by a defect and, if so, whether a class action lawsuit can be filed.

How a Class Action Could Help

If a class action lawsuit is filed, it could give consumers the chance to recover part of the purchase price of their toaster ovens and force the manufacturer to find a fix for the problem.
Attorneys working with ClassAction.org are investigating whether a class action lawsuit can be filed on behalf of consumers who purchased a Cuisinart toaster oven (model TOB-40) over a potential fire risk.
Specifically, they're looking into whether a defect is causing the toaster ovens to turn on by themselves or fail to turn off. Consumers have also complained that the appliances get "stuck" on high heat even if the knob is turned to a lower setting, causing, in some cases, the glass in the front door to shatter or explode.
If you've had these problems with your Cuisinart TOB-40 toaster oven, attorneys working with ClassAction.org want to speak with you.
Before the attorneys can even consider filing a class action lawsuit, they need to speak with consumers who own the toaster ovens to help determine whether a defect is to blame for the problems being reported.
How Do I Know If I Have the TOB-40 Model Toaster Oven?
The model number is likely engraved on the back side of the toaster oven. You can also check whether your toaster oven is a TOB-40 model by looking at the box it came in or the instruction booklet.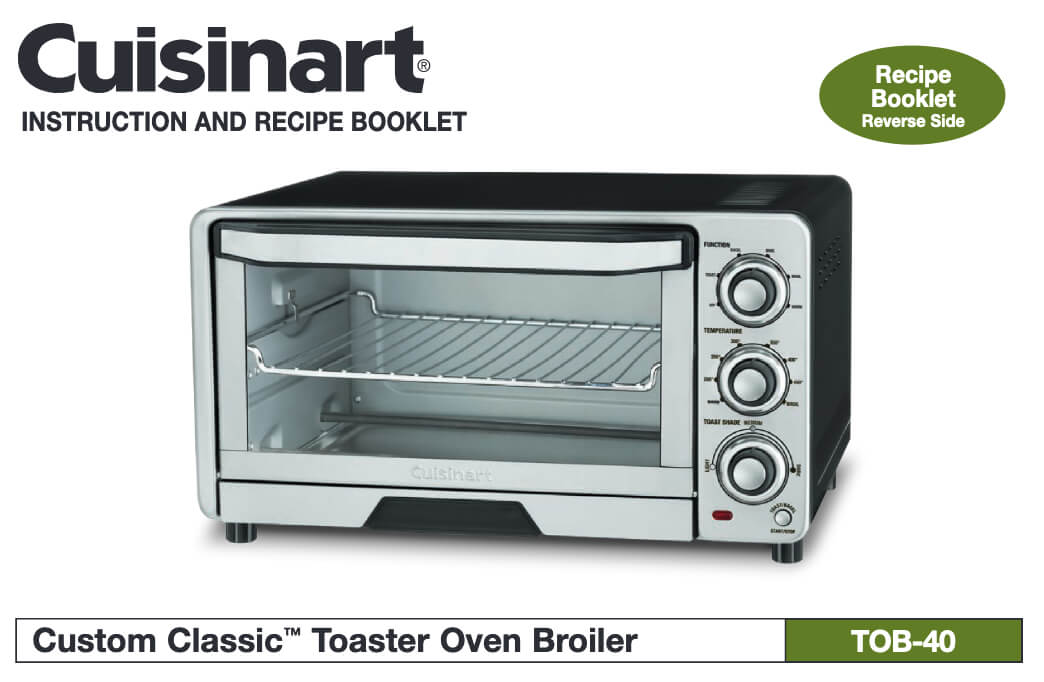 If you purchased the toaster oven online, you can always check your order history or email purchase confirmation as well.
Importantly, the Cuisinart Digital AirFryer Toaster Oven model number TOA-65 is not part of this investigation. A class action lawsuit has already been filed for this model's alleged tendency to emanate excessive heat and cause damage to nearby surfaces.
Cuisinart Customers Complain of Smoking, Fires, Burnt Food
A number of consumers have complained online about problems with their TOB-40 toaster ovens, with some saying the product is a fire hazard and should be recalled, and others noting that the only real way to turn off the appliance is to unplug it.
In addition to the toaster ovens turning on by themselves and the temperature settings not working properly, consumers have reported:
Overheating

Shattered glass doors

Warped and cracked heating elements

Burnt food

Smoking

Fires
A sample of online complaints from consumers who purchased the Cuisinart TOB-40 toaster oven can be found below [sic throughout, emphasis ours]:
This was a great buy... UNTIL it spontaneously exploded this morning while making toast. Thankfully no one was standing near it when it happened."
— Amazon Customer, Cuisinart TOB-40N Custom Classic Toaster Oven Broiler review, Amazon.com
I have owned a Cuisinart TOB-40 Toaster Oven for about 5 years. The last few weeks the door has started opening difficult. Today after cooking toast twice when I went to open the door the second time it was once again hard to open and then completely shattered all over the place. Luckily I was not hurt by small glass fragments that went everywhere. I was able to clean up all the small chunks and slivers of glass up after about an hour. Had this been a child or the oven was at eye level it could have seriously injured someone."
— Cuisinart TOB-40 Toaster Oven complaint, SAFERPRODUCTS.GOV
It smoked constantly during use for the entire time we owned it. I gave it three stars because it did work fairly well for the entire time we owned it. Until the bottom front heating element bowed upward and cracked about a week ago…I noticed that other reviewers had the same problem with their units concerning the heating element cracking and causing problems with at least one person stating that it nearly burned their house down."
— Gar Rac01, Cuisinart TOB-40N Custom Classic Toaster Oven Broiler review, Amazon.com
Lower heating element on a Cuisinart TOB-40 Custom Classic Toaster Oven Broiler split open and started small fire inside the oven. When my husband pressed the power button to turn it off, he received and electric sho[ck]. The fire stopped after we unplugged the power cord from the wall."
— Cuisinart TOB-40 Custom Classic Toaster Oven Broiler, SaferProducts.gov
I was using my Cuisinart TOB-40 toaster oven. I noticed the unit was running too hot. I turned the switch to off but it did not turn off. So this toaster oven failed in a way that: 1. The temperature now runs at max despite the knob setting. 2. The unit is always on, even when the knobs are set 'off', it has to be unplugged from the wall, while drawing max power for the unit. This unit is a fire hazard."
— Cuisinart TOB-40 Toaster Oven complaint, SaferProducts.gov
About six months ago there were times when the oven wouldn't turn off with the knob and I would have to unplug it to get the burners to shut off. I continued to use it because I love it and to get the most value out of the purchase. This week the thermostat stuck on HIGH heat and burned my baked potatoes in no time. This morning it burned my bacon in an extremely short amount of time."
— Island Mama, Cuisinart TOB-40N Custom Classic Toaster Oven Broiler review, Amazon.com
How Could a Class Action Help Me?
If filed and successful, a class action lawsuit could help consumers in several ways. For instance, Cuisinart customers could have the chance to recover some of the money they spent on their toaster ovens, as they likely wouldn't have bought the product – or at least wouldn't have paid as much – had they known the problems the ovens could cause.
In addition, a successful class action could also force the manufacturer to recall the toaster ovens and offer a fix to consumers, update the TOB-40's warning labels or stop selling the products altogether.
Before commenting, please review our comment policy.