3M Lawsuits for Military Hearing Damage
Last Updated on October 23, 2023
Investigation Complete
Attorneys working with ClassAction.org have finished their investigation into this matter.
Check back for any potential updates and take a look at our open investigations here. The information on this page is for reference only.
October 23, 2023 – Judge Warns 3M Earplug Claimants of Scammer Cold Calls

The federal judge overseeing the massive 3M dual-ended earplugs multidistrict litigation (MDL) has warned that scammers are reaching out to some of the hundreds of thousands of people who have filed claims for the proposed $6 billion settlement detailed below.

In a three-page order, United States District Judge M. Casey Rodgers stated that the court has heard reports that several claimants have received "phone calls from bad actors" posing as the settlement administrator, Archer Systems, and requesting that claimants "verify sensitive personal information," including Social Security numbers (SSN) and dates of birth, to confirm their participation in the settlement.

The judge said that Archer's dedicated 3M claimant contact number was posted on Reddit and that the scammers are using that number to "disguise their caller ID information" to make it appear as though they are legitimately calling from Archer.

"Claimants are hereby notified that THIS IS A SCAM, and the Federal Bureau of Investigation has been notified of the attempted fraud/identity theft," Judge Rodgers stated, urging all 3M earplugs claimants to be vigilant about protecting their personal data from possible scammers.

The judge also stressed that Archer is not directly contacting settlement claimants unsolicited and that the company is only contacting those who submitted an inquiry to Archer. The company also does not employ or utilize automatic dialing technology or auto-caller bots through its call centers or to communicate with claimants, Judge Rodgers said.

"When communicating with a claimant, ARCHER verifies the claimant's identity by requesting the claimant's name, date of birth, and representing [Combat Arms Earplugs] law firm. If multiple claimants with the same name and date of birth are represented by the same law firm, then ARCHER will verify a claimant's identity by requesting the last four digits of the claimant's SSN only. CLAIMANTS SHOULD NEVER SHARE THEIR FULL SSN BY TELEPHONE, ESPECIALLY IN RESPONSE TO AN UNSOLICITED CALL."

Earplug settlement claimants are urged to contact their attorneys in the event they receive any unsolicited communication from someone claiming to be an agent of Archer. The judge also warned that claimants should be "extremely cautious" about posting settlement information online.

August 29, 2023 – 3M Earplug Lawsuit Update: $6 Billion Settlement Reportedly Reached

3M has reportedly agreed to pay $6 billion to resolve hundreds of thousands of claims from current and former United States military service members who alleged they suffered hearing loss and tinnitus after using the company's "defective" dual-ended Combat Arms earplugs.

According to Reuters, the proposed settlement would end nearly 260,000 lawsuits, purportedly the largest multidistrict litigation in U.S. history, dating back several years. Per the New York Times, the settlement is comprised of $5 billion in cash and $1 billion in stock, which 3M reportedly agreed to pay over the next six years.

The earplugs at issue, designed to protect against combat noise, were used by the U.S. military from 2003 to 2015, after which tinnitus rates among active duty service members "increased significantly," according to a 2019 study cited by the Times.

3M maintains that the earplugs "are safe and effective when used properly" and has not admitted to any liability under the reported settlement. Details have yet to emerge with regard to the possible structure of the deal, among other specifics.

ClassAction.org will update this page as more details become available.

Last May, a Florida jury awarded an Army veteran more than $77 million in damages linked to his hearing loss and tinnitus, and several individual plaintiffs have secured multimillion-dollar awards in their cases over the 3M earplugs, the Times noted.

At one time, the sheer number of lawsuits centered on 3M's dual-ended earplugs accounted for roughly 30 percent of all federal court cases nationwide, Reuters states. The publication shares that of the 16 bellwether suits that have gone to trial, 3M has lost 10, totaling about $265 million in damage awards to plaintiffs.

March 9, 2022 – Investigation Closed, Litigation Continues

Attorneys working with ClassAction.org are no longer reviewing claims on behalf of military members who allege they experienced hearing loss related to their use of 3M's dual-ended Combat Arms earplugs.

The litigation against 3M, however, continues to move forward. So, if you have questions about your rights and whether you can file a lawsuit, reach out to an attorney in your area. Most offer free consultations. Keep in mind that every case is subject to a statute of limitations, which places a time limit on how long you have to file a claim, so you may wish to act quickly.

The information below was posted when the investigation began and remains for reference only. Our open list of investigations can be found here.
At A
Glance
This Alert Affects:

People who served in the military anytime between 2003 and 2015 and experienced hearing loss after using 3M dual-ended Combat Arms Earplugs.

What's Going On?

Defense contractor 3M Company settled a False Claims Act lawsuit in July that alleged the dual-ended Combat Arms Earplugs it supplied to the military between 2003 and 2015 were defective and caused many service members to suffer hearing loss.

How Can a Lawsuit Help?

A lawsuit could award money to affected individuals for medical bills, pain and suffering, and other damages they've suffered from using the allegedly defective earplugs.

Is this a Class Action?

No. You will need to speak to an attorney to file your own lawsuit specific to your experience and injuries. You can find out more about the process by contacting us through the form on this page.
Attorneys believe military service members who experienced hearing loss after using 3M military ear plugs may be entitled to compensation.
According to a $9.1 million settlement this past July, 3M knowingly sold defective 3M Combat Arms earplugs, Version 2 (CAEv2) to the United States military without disclosing that the CAEv2 earplugs could cause wearers to develop hearing loss.
Now, attorneys working with ClassAction.org want to help service members recover compensation for medical bills, pain and suffering, and other damages they've experienced as a result of using these allegedly defective military earplugs.
What Earplugs Are We Talking About?
The earplugs believed to be defective were selective attenuation earplugs that were standard issue in certain branches of the military between 2003 and 2015. They were dual-ended, with one yellow end and one olive green end, and offered two levels of noise protection depending on how they were worn.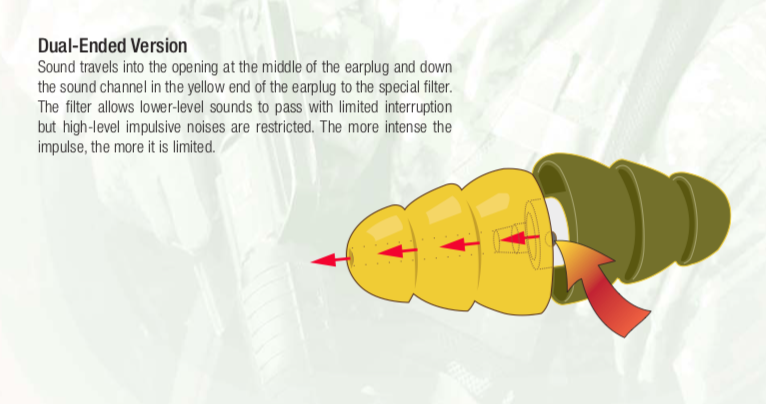 Why Were the Earplugs Believed to Be Defective?
According to court documents, the 3M earplugs were too short and could loosen imperceptibly in the wearer's ear, exposing him or her to damaging noises that could result in hearing loss or tinnitus.
The False Claims Act case argued that 3M, the exclusive supplier of selective attenuation earplugs to the military between 2003 and 2015, knew of the issue since 2000 and falsely claimed that the earplugs met the military's safety standards.
Why Are New Lawsuits Being Filed?
The earplug case settled in July was a whistleblower case filed under the False Claims Act, so it only compensated the government for the money it spent purchasing allegedly defective earplugs.
As for the affected service members, they can now file individual lawsuits to seek compensation for damages they've suffered, such as personal injuries, pain and suffering, and loss of life's enjoyment.
Before commenting, please review our comment policy.