What's the Problem?

Some companies are failing to comply with regulations regarding the use of background checks and/or using backgrounds checks in a discriminatory manner.

What Is the Fair Credit Reporting Act (FCRA)?

The Fair Credit Reporting Act (FCRA) is a federal law that governs the collection and use of consumer information. The FCRA provides certain rights to job applicants in regard to background checks and outlines what employers must do when these running reports. It also governs how employers can use information contained in background checks when evaluating potential employees.

Type of Lawsuit

Class Action

How Can a Lawsuit Help?

A lawsuit can help you and others seek compensation for lost earnings and lost job opportunities, as well as changes to company policies to help stop discrimination in the workplace.
A number of companies, including Kaplan, Inc., Rite Aid, Whole Foods Market and PepsiCo, Inc., have been sued by employees and job applicants for allegedly failing to comply with federal background check laws. These lawsuits allege that the companies used background checks to discriminate against potential employees and violated the Fair Credit Reporting Act, a federal law that says companies must follow certain procedures when requesting these reports.
If you believe information contained in your background check prevented you from getting a job, get in touch with us using our contact form. You may be able to file a lawsuit against the company that denied you employment.
Background Checks: What Are My Legal Rights?
The Fair Credit Reporting Act provides you with a number of rights regardless of when or how you are subject to an employment background check. Whether you are applying for a new job, vying for a promotion or undergoing a background check for any other reason, these rules must be followed. If not, you may be able to sue the company for violating federal law.
Written Permission
Companies are required to obtain written permission from you before performing a background check, and must provide a disclosure – separate from other any documents (e.g. employment applications) – stating that a background check may be conducted for employment purposes.
Hiring, Demoting and Promotion
When a company decides to hire, demote, or deny employment on the basis of a background check, it must:
Provide you with a copy of the background check


Provide you with a summary of your rights under the Fair Credit Reporting Act
The purpose of this is to provide you with an opportunity to dispute any incorrect information contained in the background check report to avoid being fired or denied employment.
Firing or Denying Work
When a company decides to fire or deny employment based on a background check, certain rules must be followed. Even in cases where a worker is fired, employers cannot take "adverse action" - meaning they cannot file unfounded charges, make threats, or produce "unjustified negative evaluations, unjustified negative references, or increased surveillance" based on information contained in a background check. Employers are also required to provide you with a notice containing:
The name and contact information of the reporting agency


A statement that the reporting agency did not make the adverse employment decision


Notification that you have 60 days to obtain a copy of your background check


Notice of your right to dispute information contained in the report with the reporting agency that furnished it
Discriminatory Background Checks and EEOC Cases
While a number of employers carry out background checks for security reasons, it has been alleged that background checks can, on occasion, be racially biased and work primarily to disqualify minorities from employment. In fact, in light of these allegations, the U.S. Equal Employment Opportunity Commission (EEOC) is reviewing its stance on the use of arrest records during hiring processes following concerns that African Americans and Hispanics face discrimination under "blanket" hiring policies that exclude applicants with past convictions.
How Can Background Checks Be Discriminatory?
Several employers have already faced legal action claiming that their hiring policies were discriminatory. For instance, a background check lawsuit against Pepsi beverages resulted in a $3.13 million settlement to resolve claims that the company discriminated against African Americans in its background checks. The EEOC found that Pepsi disproportionately excluded African American applicants, as the company's hiring policy did not permit those who had been arrested to be hired for permanent jobs, even if they were never actually convicted of any crime. The EEOC's investigation found that denying employment based on arrest and conviction records could be discriminatory when it is not relevant to the position, as it can limit job openings for applicants based on their race. As part of the settlement, Pepsi had to hire any of the 300 African Americans adversely affected by its hiring policy who still wanted a position at the company.
How Can a Lawsuit Help Me?
If you were subject to an illegal or discriminatory background check, a class action lawsuit could help you:
Seek compensation for lost earnings, lost job opportunities and other damages


Seek changes to company policies to ensure discriminatory practices stop
If you think you have been denied a job or a promotion because of your background – including criminal history, if this was made known to the employer – it may be time to consider a lawsuit. There's no risk in learning more about your rights and employers cannot legally take action against you for seeking help. (The EEOC, in fact, lists "participation in an employment discrimination proceeding" as a protected activity). If you'd like to learn more about filing a lawsuit, start by telling us your story. You can use this form to get in touch.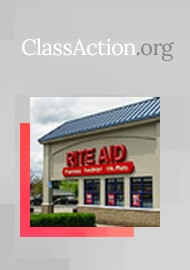 Rite Aid is facing a class action lawsuit over its use of background checks during the hiring process, amid claims job applicants aren't given a chance to defend themselves from accusations of theft.… More