What's the Problem?

Several companies have been accused of violating a federal law known as the Fair Credit Reporting Act when running background checks on employees and job applicants.

What Is the Fair Credit Reporting Act (FCRA)?

The Fair Credit Reporting Act (FCRA) is a federal privacy law that outlines how employers can collect and use certain consumer information, such as credit information and criminal background information, when determining whether someone should be hired or promoted.

Type of Lawsuit

Class action or individual

How Can a Lawsuit Help?

A lawsuit can give you a chance to seek compensation from your employer or potential employer for lost earnings or job opportunities.
A number of companies, including Kmart, Home Depot, Wal-Mart, and Dominos, have been sued by employees and job applicants for failing to comply with federal background check laws. These lawsuits allege that the companies violated the Fair Credit Reporting Act (FCRA), a federal law that says companies must follow certain procedures when requesting and using background checks for employment purposes.
If you've had a background check run for employment purposes or believe information contained in your report prevented you from getting a job, get in touch with us using our contact form. You may be able to file a lawsuit against the company that ran your background check or denied you employment.
Background Checks: What Are My Legal Rights?
The FCRA provides you with a number of privacy rights when a background check is conducted for employment purposes. Whether you are applying for a new job, vying for a promotion or undergoing a background check for another employment-related reason, the employer must comply with this law. If not, you may be able to sue the employer who requested the background check or the company who provided the background check for violating federal law.
Written Permission
Companies are required to obtain written permission from you before performing a background check, and must provide a disclosure – separate from other any documents (e.g. employment applications) – stating that a background check may be conducted for employment purposes.
Firing, Denying Employment, or Failing to Promote
Before an employer decides to fire you or deny you a job or promotion because of information in your background check, it must:
Provide you with a copy of the background check
Provide you with a summary of your rights under the Fair Credit Reporting Act and
Provide you with a reasonable amount of time to dispute the accuracy of the background report
The employer must provide this information to you – and time to dispute the information in your report – before they can fire you or deny you a job/promotion. If an employer notifies you by phone or otherwise that you are not being hired or being fired based on the results of your background check before giving you this information, they may have violated the FCRA.
After firing you or denying you a job or promotion, the employer must:
Provide you with the contact information of the company who provided the background report and
Provide you with notice of your right to receive a free copy of the background report and your right to dispute the accuracy of the report
What Information Can Be Included in a Background Check?
Background checks can contain a variety of information that can be used by an employer to make employment-related decisions. Certain types of information, however, cannot be reported and a background check containing this information may violate federal law.
What Can't Be Reported?
Incomplete information
Records of dismissed charges or other non-convictions older than 7 years
Records of criminal convictions, dismissals, arrests, or other non-convictions that have been expunged
Records of arrest older than 7 years
Records of non-criminal traffic offenses older than 7 years
Records of bankruptcies older than 10 years
Records of evictions older than 7 years
Other adverse information older than 7 years
What About Misleading or Inaccurate Information?
The Fair Credit Reporting Act also prohibits companies who provide background checks from reporting information that is considered misleading or inaccurate. Such information can include:
Reporting information on the wrong person
Reporting debts that have been discharged in bankruptcy
Inaccurate reporting of criminal records (for instance, reporting a dismissed charge as a conviction or reporting an incorrect offense title or date)
Reporting the same charge multiple times on the same report
If a background check company has reported inaccurate or misleading information about you to an employer or landlord, you may be entitled to compensation. Get in touch with us to learn more.
Discriminatory Background Checks
While a number of employers carry out background checks to determine whether someone should be hired or promoted, employers cannot use background check information to discriminate against an employee or job applicant on the basis of race. In fact, the U.S. Equal Employment Opportunity Commission (EEOC) has been reviewing its stance on the use of arrest records during hiring processes following concerns that African Americans and Hispanics face discrimination under "blanket" hiring policies that exclude applicants with past convictions.
EEOC Cases: How Background Checks Can Discriminate
Several employers have already faced lawsuits that claimed their hiring policies were discriminatory. For instance, a lawsuit against Pepsi resulted in a $3.13 million settlement to resolve claims that the company discriminated against African Americans in its background checks. The Equal Employment Opportunity Commission (EEOC) found that Pepsi disproportionately excluded African American applicants, as the company's hiring policy did not permit those who had been arrested to be hired for permanent jobs, even if they were never actually convicted of any crime.
How Can a Lawsuit Help Me?
If you were subject to an illegal or discriminatory background check, a class action lawsuit could help you:
Seek compensation for lost earnings, lost job opportunities and other damages
Seek changes to company policies to ensure discriminatory and/or illegal practices stop
If you think you have been denied a job or a promotion because of your background check – including criminal history – it may be time to consider a lawsuit. If you'd like to learn more, start by telling us your story. You can use this form to get in touch.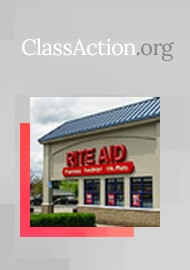 Rite Aid is facing a class action lawsuit over its use of background checks during the hiring process, amid claims job applicants aren't given a chance to defend themselves from accusations of theft.… More